review
Mitchell's Bar and Grill Weekend High Tea
• By Optimus Prime Rib
I've been very naughty the past few weeks. If I sees it, I eats it. My excuse is that I was sick earlier this month, hence I needed to eat lots to have the strength to... eat more food and blog about it. Someone has to do it right?
This time I got a little fancy with some weekend high tea at Mitchell's Bar and Grill, who asked me to come check it out. It would be rude of me to decline, so of course I must go.
It's something they've recently introduced as a part of their ongoing committment to trying new things and keeping the menu fresh with ideas. It's only available on the weekends and will set you back $60 for 3 platters and a bottle of bubbly, which is a pretty darn good deal I reckon. Perfect for taking the missus out for a midday treat, especially if you're in trouble with she who must be obeyed and don't know what you actually did – which is all the time as my fellow males can attest too.
It's Friday. Specifically, that's the name of the guy with a huge smile on his face who greets us. I'd be a happy chappy all the time too if every day was Friday. He shows us to our table where we are to eat.
But first, coffee, which was nice and strong. I've been drinking coffee like water lately so I think my caffeine tolerance is at an all time high, so it was nice to get something with some real punch. Perfect foam too.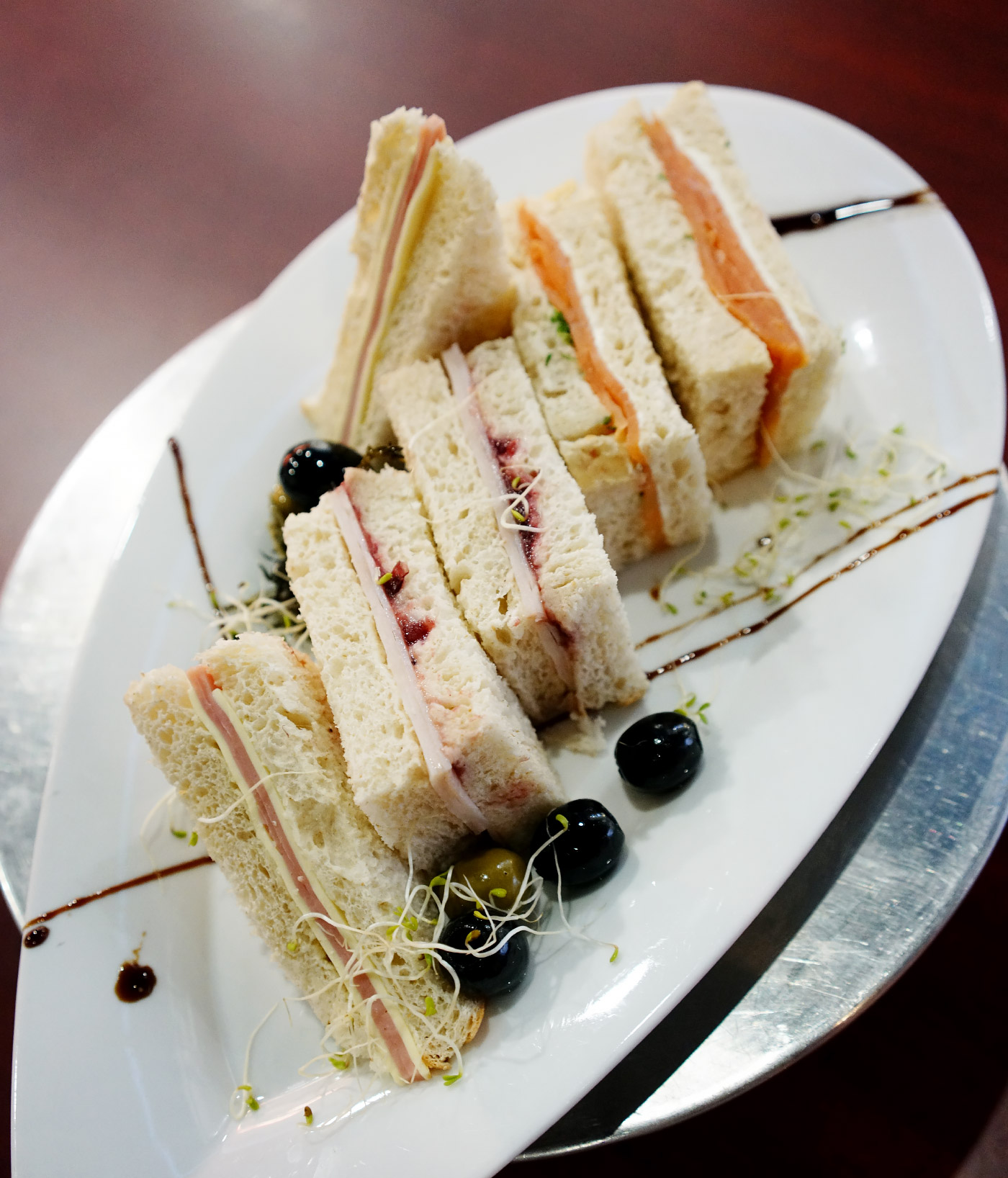 We start with the sammiches. The crusts were cut off which was cute and make me feel like I'm 5 again. I really digged the smoked salmon and cream cheese. The turkey and cranberry was nice too. The good old ham and cheese was a bit pedestrian. I think they used some kind of processed cheese and cheap ham. I'm quite particular about my ham and cheese. It's not cheese if it doesn't bite you in the mouth and slap you in the face I reckon! Although I read the other day, processed cheese isn't allowed to be called cheese at all, but should instead be labelled as a "cheese product".
Two thumbs up to the olives! Marinated in house, they were fresh as can be. Not that I've ever eaten an olive straight from the tree, but these were certainly head and shoulders above the jar variety. 11 out of 10 would eat a whole plate if presented the opportunity.
Also if you're vegetarian, just order ahead and the chefs will happily substitute the meaty bits with veggie bits for you.
Scones were up next. Now to be honest, I'm not a fan of scones at all, or cream for that matter. I will make an exception for these however, as the bottom part was crisp on the outside, light on the inside, whilst the whipped top part was like eating a soft fluffy cloud. Very nice. The assortment of berries was also quite nice as well, I'm too stingy to buy fresh raspberries and blueberries myself so it's always great having them to eat! Hahaha!
Now on to the pièce de résistance - dessert! Profiteroles, orange cake, macarons and more berries! All made in house of course. I break my one cup per morning rule and grab another coffee, because caffeine and cake go hand in hand. My man Simran brings it over and it's as good as the first, he's got it down pat and now I'm really awake. The treats on the plate dissappear quickly, no complaints here. They were all yummylicious. I wasn't sure if candied orange slice was edible or not, but I gave it a shot anyway. I still wasn't sure after trying it...
Junior Foodie is asked if she wants ice cream by Simran. She normally doesn't talk to strangers being the shy one that she is, but she can't stay quiet with an opportunity that's too good to pass up. It even came with more berries!
Highly recommended for a quiet, relaxing and romantic treat for two. Just do it.
Contact details
Address
Hilton Hotel
32 Mitchell Street