review
The Poolside Restaurant at DoubleTree by Hilton Darwin
• By Brioche of Tarth
The Doubletree Hilton is a little getaway hotel next to its more well known big brothers. Blink and you'll drive past it easy. We did exactly that - so look out for the massive '122' on the Esplanade or make sure you go into the entrance at the very end of the Esplanade!
This hideaway gem of hotel is simple, but it is very clean and their level of service is not to be be trifled with.
The Poolside Bar and Grill is the restaurant that is (quite obviously) next to the Doubletree Hilton pool. I was very tempted to just sit by the water with my feet dipped in just to enjoy the serenity of the evening, but there was food to be eaten.
The poolside is beautiful, the décor is simple with its functional Australian outdoor setting. The interior has cushier seats and has that extra touch of fanciness. It's a quiet romantic spot, perfect for date nights. The restaurant seemed empty when we arrived, but the crowd milled in as the night wore on.
We were seated and presented with menus promptly. Being a hungry bunch, we placed our orders quickly. I hung out by the kitchen and chatted with the chefs while they prepped our entrees.
Entrees
The 'salad' was a very interesting combination. I didn't get to taste too much of it as my partner ate most of it while I was trying to capture the last natural golden hour shots of these babies: 
Give me a moment while I wipe the drool off my keyboard!
The fat on this pork belly was rendered perfectly and left no slick on my palate. Usually that alone would be enough to get my hype on, but the sauces were to die for and definitely raised the bar. The coconut carmel wasn't sickly sweet like it sounds, nor was the tamarind reduction as sour as it sounds. Whichever sauce you pick, I'm sure you'll love it, and if you have it both at the same time you might just experience the same mind explosion that we did. The fresh asian slaw was a perfect combination with strong punches of garlic and ginger.
August's Chef special of 'Herbs' has some fantastic contenders. The entree of banana prawns were cooked to perfect tenderness and the chermoula was like a mint mayonaise, which I really enjoyed. The risi e bisi was a bit of a eye opener - I had imagined it to be like a brianyi, but was not dry at all and milder in taste, having been cooked in tomato sauce with perfectly diced cucumbers for some fresh relief.
Easy and enthusiastic demolition of all three plates! At this point the sun had set and we decided to move indoors to get the full experience. (OK, OK, we may have been bitten ourselves a couple of times.)
It wasn't too much longer before our mains rocked up.
Mains
After eating the snapper I can 100% say my view has been changed. I was dreaming about this dish for days and would 200/10 recommend to anyone.
- from a not-so-seafood person
My dinner date isn't really a seafood sort of person, but she had no problems scoffing this down and whispering 'oh my goodness-es' at every bite. The snapper was juicy and skin perfectly crunchy. I loved that there was the hint of butter on the skin side of the thick fillet, and the herbs were subtle enough to let the natural sweetness of the snapper shine. 
And the risotto... it was as much a champion as the snapper. Delightfully cheesy enough to make you yell 'it's so gouda!' because it's also such a good pun. I really appreciated the perfect crunchy risotto-to-fish ratio. No wasted cold risotto that day! 
The only questionable thing on it was the raw panko crumbs - I would have loved it cooked, but perhaps it is just me being a little bit of a Japanese snob.
I feel like the pictures does not do justice to the epicness of this lamb shank, hurmph. It looks a little strange being boneless, but the upside is paying for a proper chunk of sous vide morroccan spiced meat that just falls apart with a prod. The black garlic potato puree is a uniquely delicious version of the well loved mash, and is super smooth and salty yet sweet.
If you're a sucker for mash like me, do yourself a favour and just go on and order another serve ($9). You know you want to.
At this stage we're both starry-eyed and we got handed the dessert menu. Lucky for us we have got a separate stomach for desserts!
Dessert
Ahhh, the humble wobbly panna cotta. I had expected the herbs here to be subtle, but I was hit full force by the thyme. I cannot quite explain the sensation of this savoury sweet, it's not like salty caramel, but it works so well hand in hand. Overall it's still a sweet dessert, but we had a pretty darn delicious double shot latte handy so the sweet bites didn't phase us too much. I would have liked a bit more of a sour punch to the mango sorbet, but hey, no complaints because the plate was just about licked clean.
This isn't your ordinary deconstructed dessert. The elements of passionfruit cheesecake, strawberry mousse, burnt marshmellow, mango gelato, banana sponge, fruit and smoked nuts all play a part to pay a yummy tribute to an important page in Darwin's history.
The eclectic mix of hot marshmellows and cold gelato, smooth mousses and airy banana sponge texture, squishy fresh fruit elements against the crunch of the nut crumble makes this a dessert worthy of its name.
It may seem like a lot of elements for one dessert, but I would highly reccomend ordering it.
The Blokes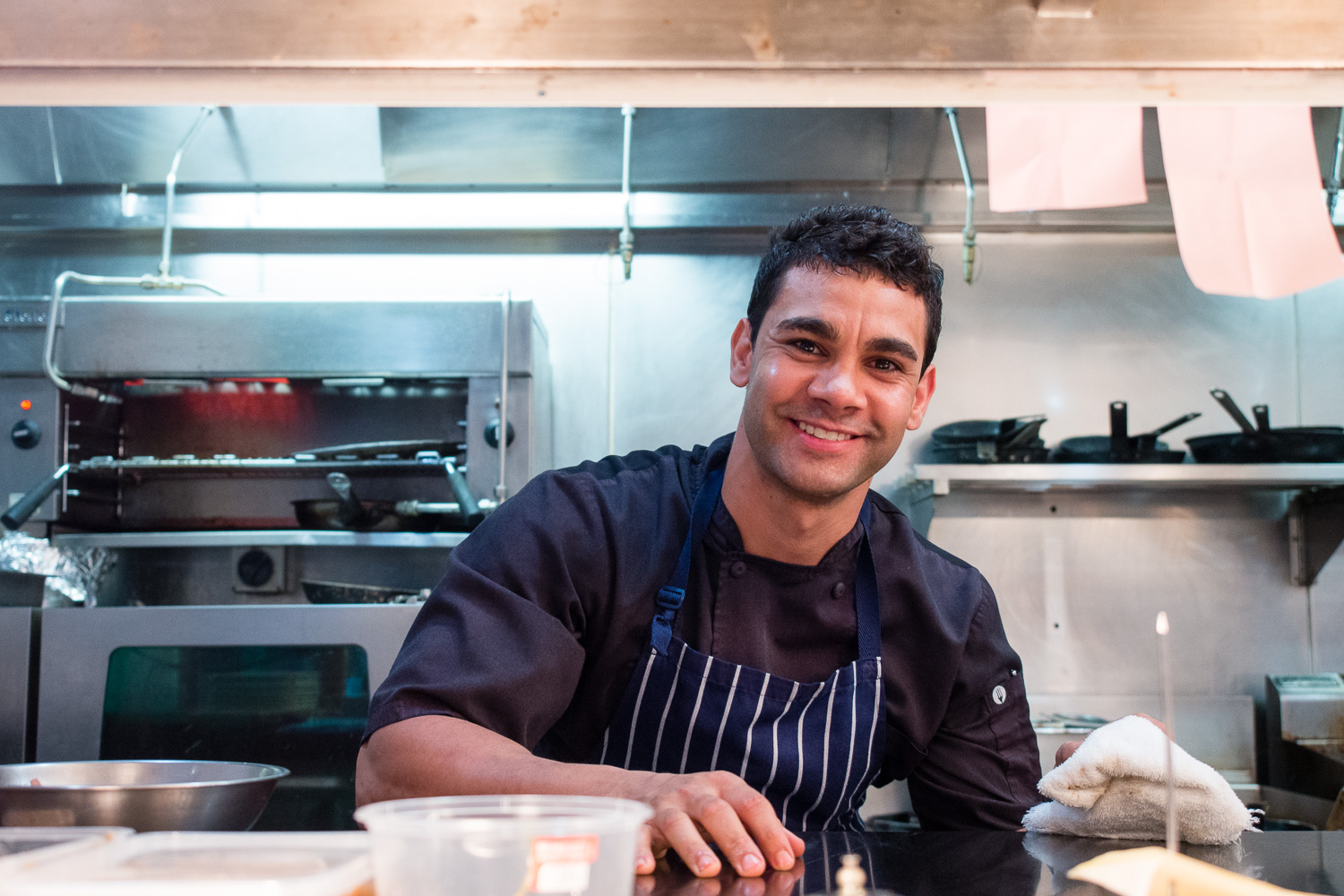 The junior sous chef Aaron is young and ambitious, and he knows his flavours. A very charming and humble fella. He's worked as a chef for 10 over years and you can taste his experience through his master dishes. Com'on, who can resist that smile?!
The other driving force in the kitchen is Andy, who I hear heralds in the asian flavours for the hotel. He's a smiley guy who turns into a serious pro when he cooks.
James, our delightful waitstaff for the night, did an excellent job tending to our requests and spent the time to get to know us. 
The trio make a formidiable force for the Poolside - and with that, I can say I will be back for more in the very near future.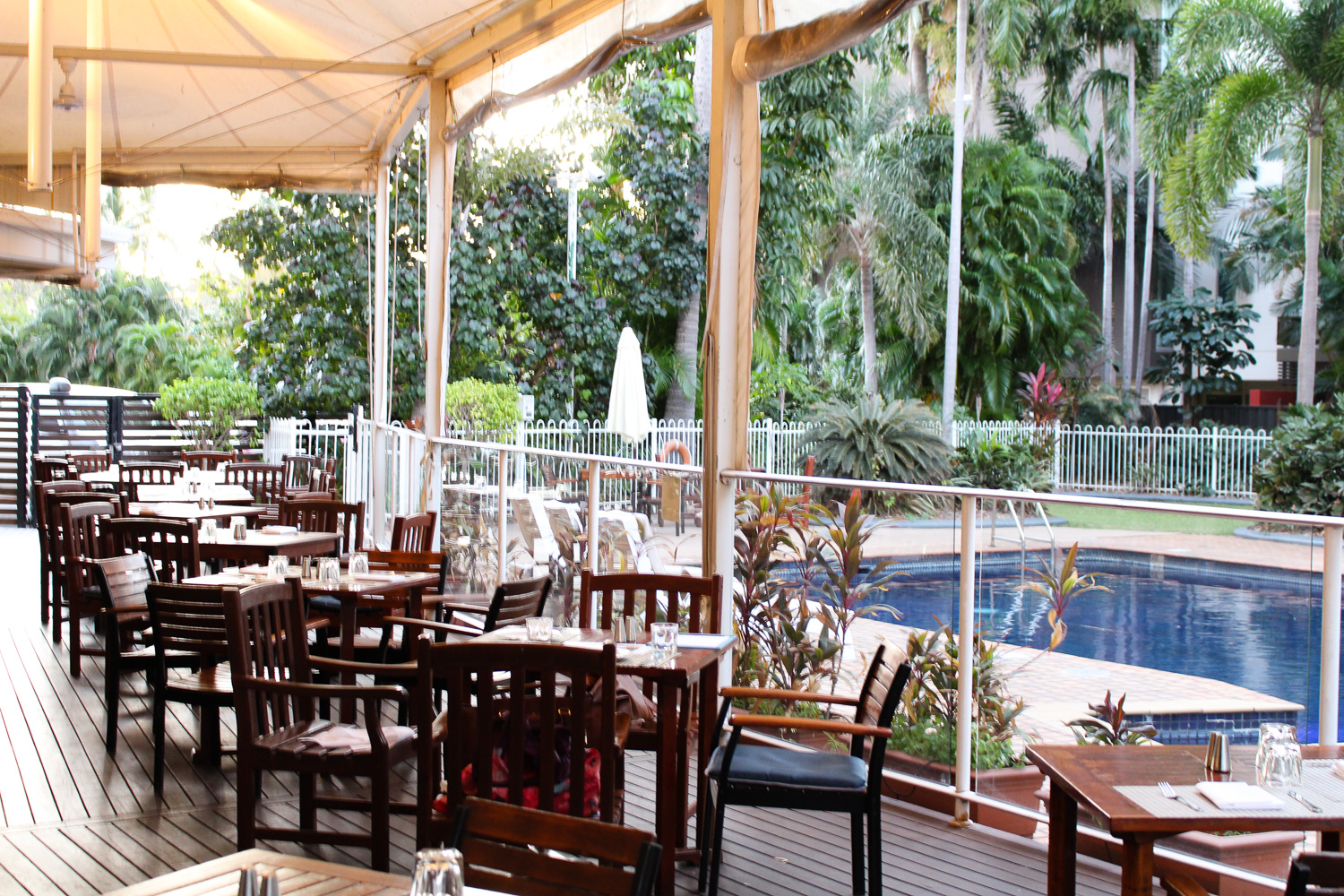 Contact details
Address
122 Esplanade Road
DoubleTree by Hilton Darwin
Opening hours
Sunday:
6:00-24:00

Monday:
3:00-24:00

Tuesday:
3:00-24:00

Wednesday:
3:00-24:00

Thursday:
3:00-24:00

Friday:
3:00-24:00

Saturday:
6:00-24:00