review
PM Eat & Drink
• By Optimus Prime Rib
Fresh high quality seafood, sourced direct from local suppliers where possible, meticulous attention to detail in presentation and a charcoal grill. Sounds delightful doesn't it?
PM Eat & Drink opened last year and has been going from strength to strength ever since.  With tapas style food and plenty on offer at the bar, it's a great place for a casual lunch or a night time rendezvous with friends. The interior is industrial meets chic with exposed ceilings, plywood tables and metal stools. The artwork on the walls is absolutely gorgeous and suits the entire setup perfectly – I wouldn't mind something like it if I ever get my own office!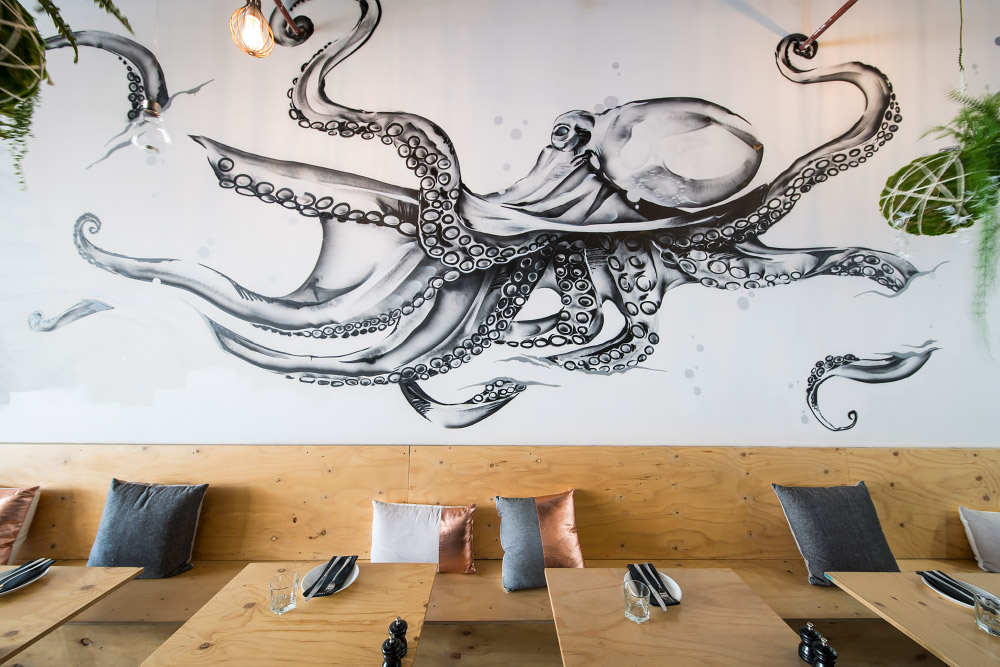 I've been here a few times and each time the flavours have been amazing thanks to the charcoal grill and fresh seafood. They do land based meats as well if you're not into fishy things – I almost died and went to heaven when I had the succulent pork belly with fennel salad. Luckily I lived to finish the dish.
Equally delightful were the slow cooked beef ribs, and to be a little fancy – the duck liver pate was much better than expected with its intense pepper flavour. Plenty of vego dishes available as well for those who prefer their animals alive. The menu does change periodically to go with food availability which keeps diners coming back for more.
The seafood is locally sourced and I'm told the owner goes down to see the fishermen in the mornings to see what's good; it's great to see another restaurant jump on the "Support NT Caught" campaign. Once back in the kitchen, the ocean critters are treated with the respect they deserve with minimal interference of the beautiful natural flavours that seafood affords. Those banana prawns bathing in butter with a squeeze of lemon must have been fighting to jump on the plate.
Seafood should be simple, which also makes it harder to get right, but thankfully the guys in the PM kitchen have got their A game on with everything cooked and seasoned perfectly. The presentation of each dish is absolutely gorgeous too with the placement of each element precise down to every angle in the most instagram friendly manner possible. Pretty sure the chefs have a protractor and an angle rule stuffed in their aprons for this purpose.
The only Debbie Downer and I can mention would be the cost. The tapas dishes are around the $15 mark each, varying on what it is, and you'd want to be ordering several per person. Throw in a few drinks and your purse / wallet will be feeling a bit lighter. This is not unique to PM however, as every other tapas bar in town is similar in this respect. I don't mind paying for the pleasure of wonderfully prepared local seafood and it seems I'm not alone in this either as the place is usually full come lunch and dinner time. The team's efforts have also been rewarded with a "Best New Establishment" at the AHANT 2016 Gold Plate Awards, must be doing alright then hey?
Highly recommended for a fancy gathering with a few of your friends.
P.S. I really like the napkins. Proper good.
Contact details
Address
Corner of Knuckey Street & Austin Lane