review
Kings Wholesome Artisian
• By Brioche of Tarth
Hidden away in the Palmerston university campus is a very, very special cafe. 
Random seats
The eclectic mix of sofas, dining suites and floor rugs gives an interesting twist to the university canteen. I can see how the little comfortable enclaves can give their own little experience, and I'm totally digging it. The floor mats are quite popular with the tots!
---
Plant based everything
It's not easy doing vegan and it definitely calls for some ingenious alternatives.
The first thing that caught my attention was the desserts and little cake bits. I'm not super familiar with vegan variations on common favourites like meringues and cookies, but I had one of each and they tasted great, not too different from their regular dairy counterparts at all! I did feel extra naughty and gobbled up more biccies because they're considered healthier options, right?!
The husband and wife team also makes their own brownies and raw desserts :D
Coffee
Everything is vegan! Well, almost everything. The coffees still have milk (and the really good kind I must add), but they make sure to provide a range of dairy free options.
The cleverly cooked foods
The Big Breakfast was delicious. Quality products that were cooked simply and tasted sublime. The eggs replacement was perfect and fake-bacon (fakon?) was interesting. The smoky flavour was there, but it was still tofu-like. (I think I like my bacon dripping in lard, heh.) The kale was the best deal of the dish in my option, just simply cooked in coconut oil and so flavoursome I could have munched on a whole plate of it for lunch.
The only bit I thought could have been done better was the garlic hash. It was a little chunky, and I would have preferred if it was cooked in a waffle iron or something to get that iconic crispy exterior. I cannot fault the flavour though, it was so garlicky! Yummo!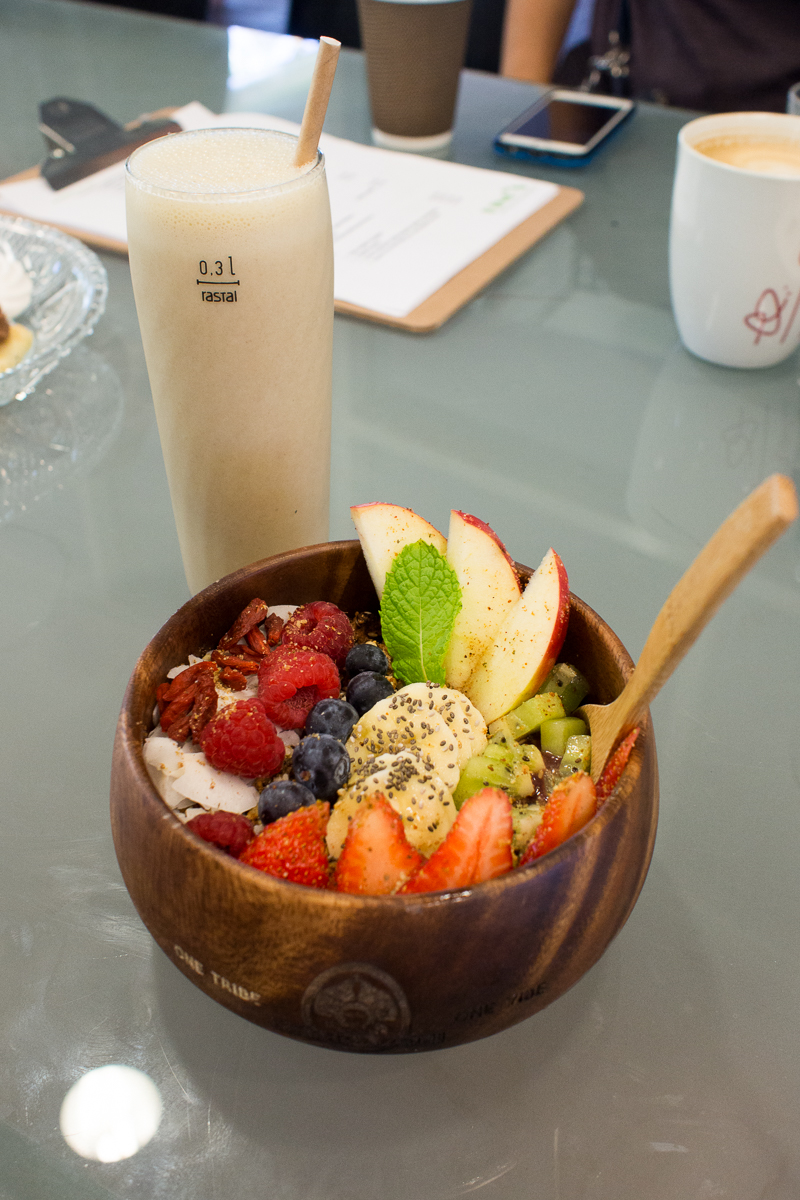 We also ordered the mint carob drink ($7.50), which has a unique taste that I think one needs to be accustomed to. It didn't help that it was a little too lukewarm for my liking.
I absolutely love their acai bowls! They are as Insta-pretty as they are yummy. I was very glad they didn't go all coconut water on it and balanced it well with the other berry flavours and the variety of additional toppings.
Oh my gosh, the nachos. House cooked black bean and tomato ragout, vegan nacho cheese sauce, guac, house cashew sour cream... you would never tell the difference. The chili itself was full of bold flavours and definitely had that right spicy kick and quite possibly the best chili I have ever had. The nacho cheese was amazing too, it had the exact same consistency as the regular kind.
I will be back for more.
As if they don't do enough already, Kings offers catering and meal preps. Their Facebook is a worthy follow, as they are constantly sharing about the different meals available for the day. 
If you're a meat lover who has survived reading this post up until now, you should definitely give this place a try. They also have a laksa that a vegan friend of mine would not stop raving about.
Be brave, have an open mind and expand your taste palate!