review
Mint Leaf Palmerston
• By Brioche of Tarth
We were invited to Mint Leaf Palmerston a couple of weeks ago... I think it was. It's been a busy month at Darwin Foodies! 
I've had takeaway at Mint Leaf Casuarina before, and I really loved the curries they had available. The Palmerston outlet is a little more on the posh side, with excellent furnishings and more of a restaurant ambience. 
My partner and I were lucky enough to be invited for a dinner. We arrived there early – 5:45 was a little unusual for us, but I was hungry and ready to stuff my face silly. The chef had our dinner planned for us so we didn't have to order from the menu. Another first for us!
I always believe that the most authentic Indian tastes comes with the cook and the tools he uses. The Mint Leaf has three main chefs, all from India! There's the head chef and his sous chef partner and a dedicated tandoori chef. I've written about the tandoori before – it's a magical hot pot where meat and unleavened bread are cooked on the insides of the pot to a perfect char. 
Their menu is quite extensive and I think the prices are very good for what you get. Choices, choices. There were quite a few items I had never heard of, so I will be back again to try some of the stranger items.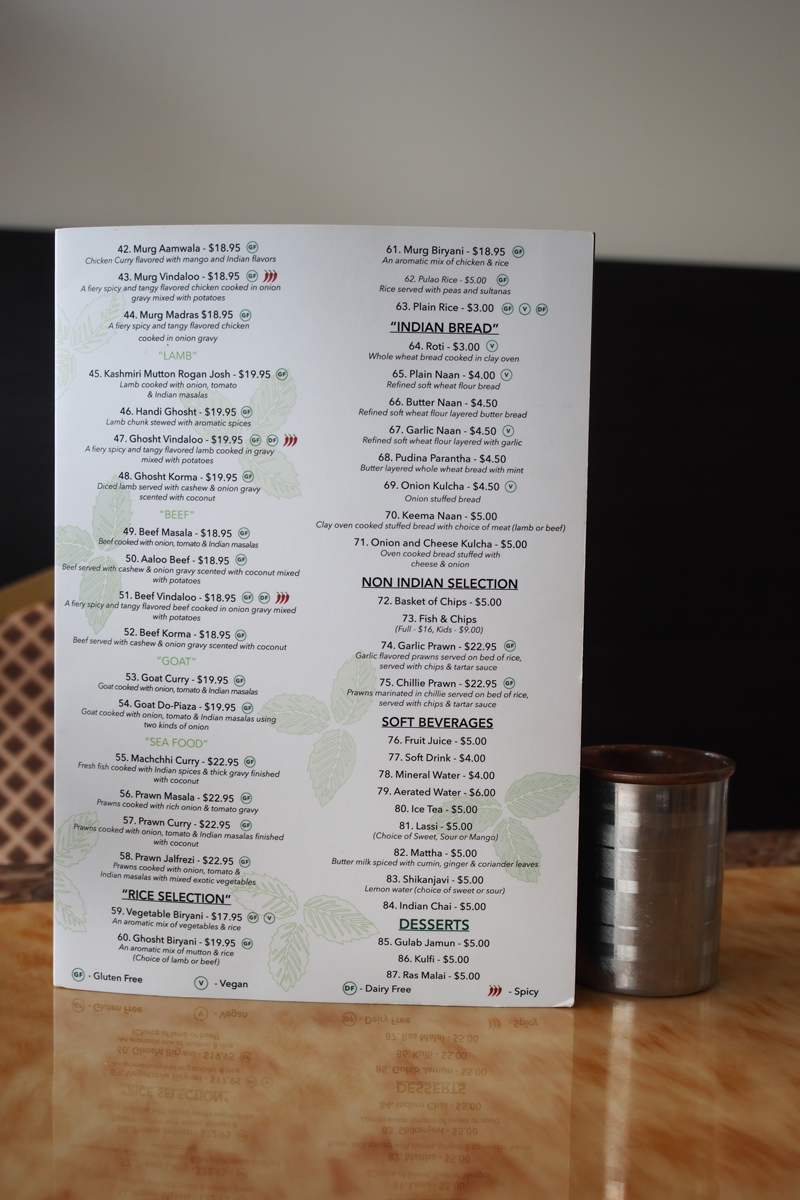 ---
The food
Entrees
The entrees were good enough for mains in my opinion! The Dahi Bhalla Chat is served cold - dumplings of lentils (urad and moong daal, high in proteins, to be specific), cumin seeds, black pepper & coriander, topped with yoghurt and tamarind chutney. The fresh pomegranate was a welcome factor, paired with the fresh herbs and slight crunch from the sev (chickpea flour noodles) is a delightful hot day treat. 
The tandoori murg, is of course, an instant crowd pleasure. Tender and perfectly balanced with the classic tandoori smoke and char, the chicken flew off the dish quickly.
My favourite entree was the mushrooms! Little button/swiss browns lightly battered and fried to a crisp then slathered with a tomato sauce... I was popping these babies unconsciously and I swear I could have eaten the whole thing myself if I didn't have to save belly space for the rest of the meal.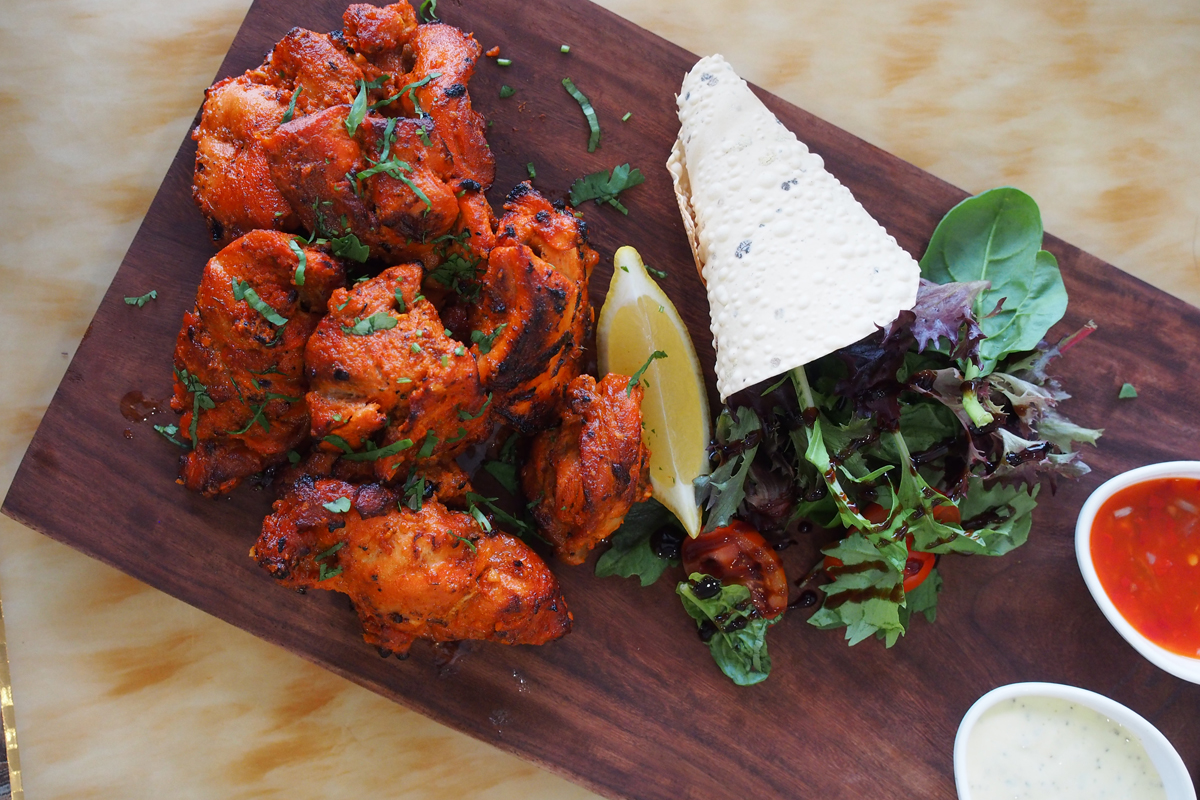 Mains
We were quite stuffed at this point so luckily our mains weren't overkill. 
The serve of roti, rice and two curries were perfect. The flavoursome dahl was a little salty, but it balanced off the butter chicken. The butter chicken was dark, not overly sweet, and highlighted more of that tomato flavour in the curry. Tangier, spicy and with a smoky finish. The sauce's aftertaste was not too creamy, and was very complementing in its flavour. Mild tongues be warned: the spicy hit sneaks in after you swallow the bite! The tandoori chicken in the murg was delicious too. This is what an authentic Northern Indian meal should be. 
Now, we must talk about this garlic naan. I'm not sure how many were in the basket, but at $4.50 I can say it's one of the best price-for-quality naans I've seen around Darwin. It's perfectly cooked, smoky, and the garlic isn't pungent and raw. I'm guessing the red comes from the tandoori mix that they use, so that was an interesting surprise and made for a stunner of a picture!
Desserts
We were given a tasting platter of sweets: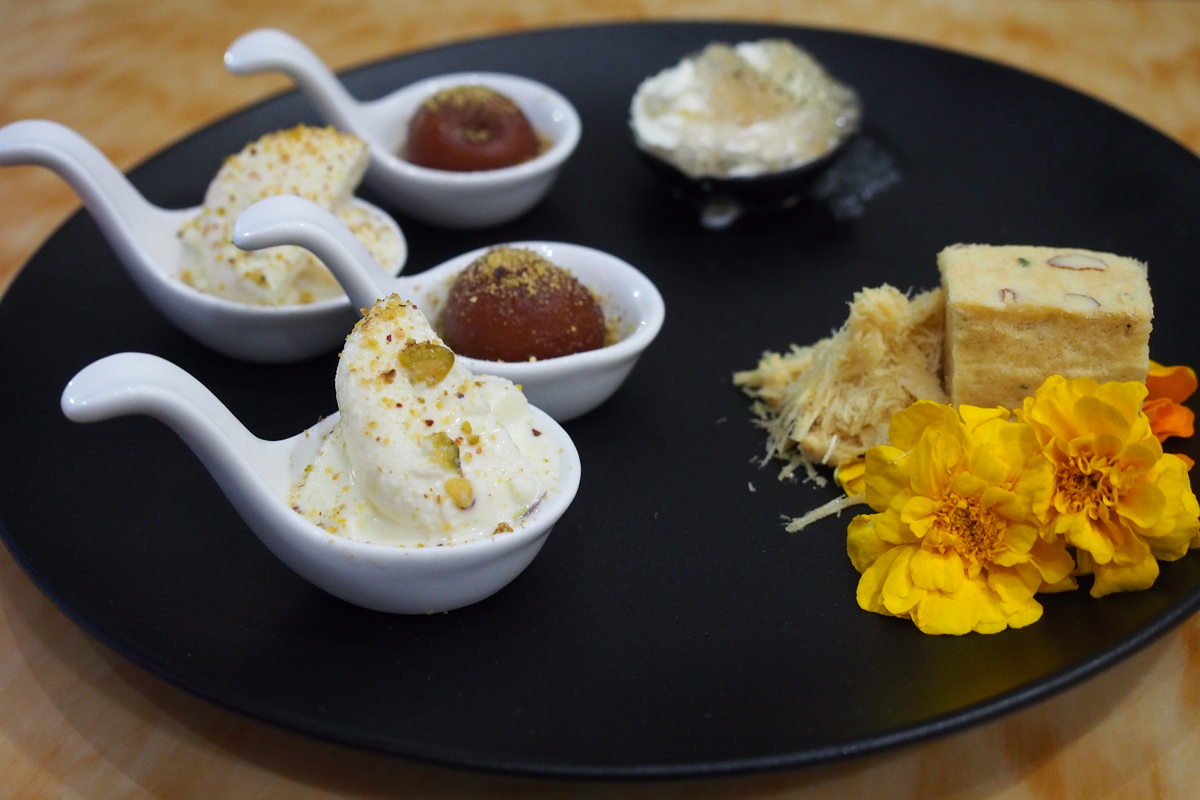 Ras Malai - the white mound - clotted cream flavoured with cardamom is mildly sweet and a curious dessert. It's almost like cheesecake without the crust.
Gulab Jamun – Deep fried milk solids soaked in a very sweet syrup - very common in indian restaurants. I usually find them overly sweet and never get through a whole piece. Mint Leaf's version is more delicate, and more sophisticated. The milk curd is a little finer, and the frying is taken that extra minute or so further so it's darker and has a thicker crunch shell. The syrup is lightly scented with rosewater and not too sugary.
As an accompliment, Mint Leaf has theirs with mango cream, honey boboa and basil seeds.
Eat two if you need :D  
Soan papdi – ground almond and pistachio. It's not in their menu, but that's something you can ask about. It's like a dense fairy floss cake that dissolves in your mouth with strong finishes of cardamom. Definitely one to try!
Try something new
Guys, butter chicken is really yummy, but I personally believe Darwin is ready to welcome the onslaught of the Indian flavours. I dare you to try something different the next time you get Indian for dinner. Goat and lamb is usually a good alternative, but try to slip in a couple of vego curries. Palak paneer is usually a good ice breaker.
If you're not sure what to order, always ask your waiter. Mint Leaf has excellent service and they're excited to share their other home styled dishes with you. 
Other important notes
Mint Leaf delivers around the Palmerston area for $8
All you can eat buffets every Monday and Tuesday, $22.50 is a pretty darn good deal!

Menus changes every week, so check their Facebook
Kids under 5 eat free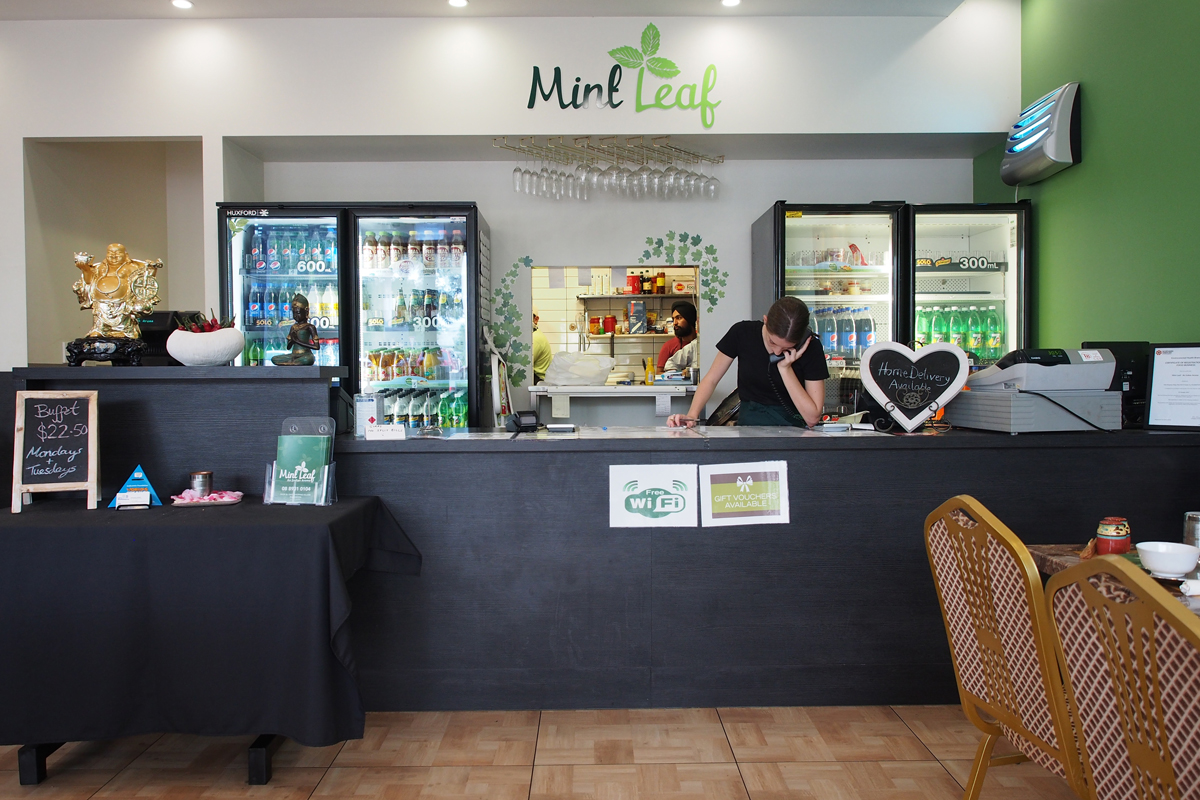 Contact details
Address
Oasis Shopping Village
Shop 36, 15 Temple Terrace