review
Cafe 21 Smith
• By Optimus Prime Rib
Cafe 21 has been a mainstay of Smith Street Mall for as long as I can remember, they've probably been there longer than most of the tennants in the Mall come to think of it. Their success relies on a large array of food, served quickly at a decent price. The food itself however, I'd always considered OK from a taste and execution perspective, but not great.
The sister location right down the other end of Smith Street, Cafe 21 Smith, draws upon the succesful formula or it's younger sibling, but expands upon it in many ways. The owners have gone all out with the fitout, literally every inch of the interior from floor to ceiling and extending into the restroomss has been decked out in something nice. There's even an abundance of healthy green potplants throughout.
There are regular cafe style tables, very comfy booths and window seats to gaze out upon the world while munching away. It is quite possibly the most welcoming interior of any restaurant of cafe in Darwin - and during the Christmas period it is the most beautiful of all with the incredible array of decorationos and giant christmas tree. The backround music selection is usually pretty good and the old fart in me appreciates that they don't play it too loud.
For those after the quick option there's ready made food galore with bain maries running along most of the interior - fresh salads, wraps, sandwiches, hot food and deserts. Typical Cafe 21 material - nothing special, but it's not trying to be.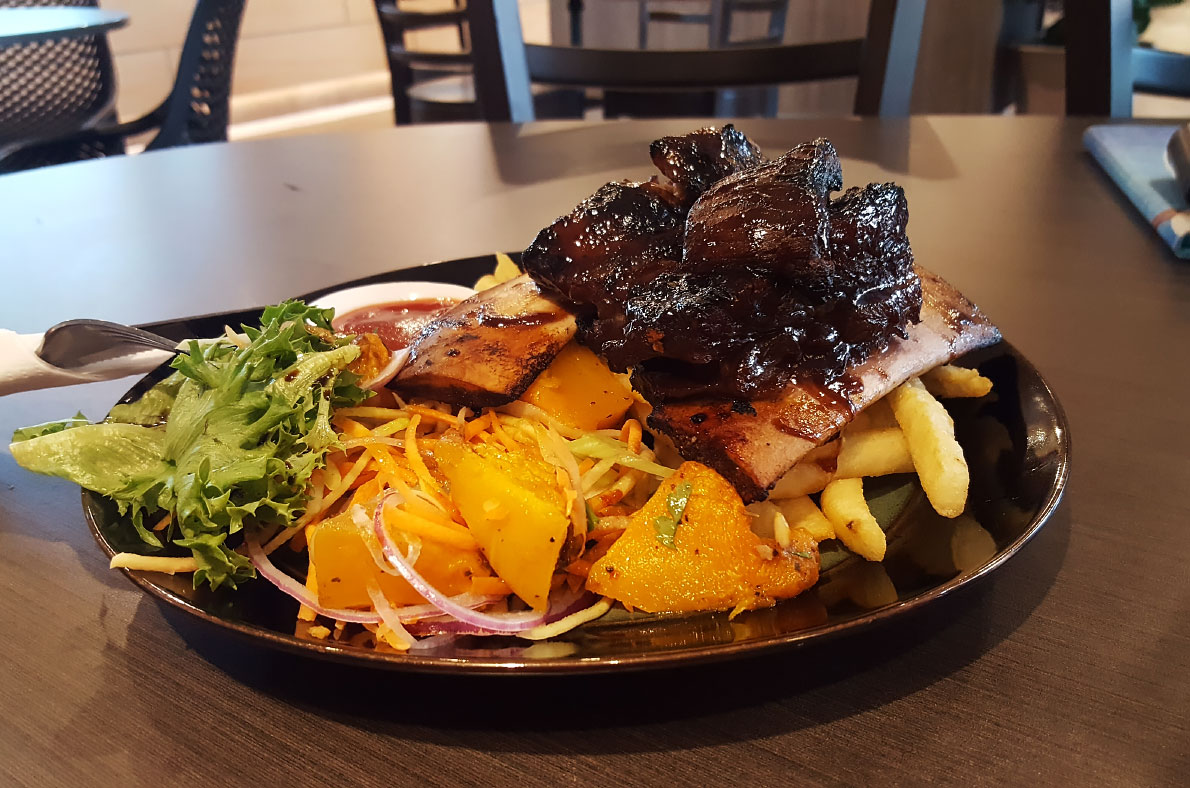 If you're wanting a nice sit down meal made to order, you can do that too by ordering from the Aussie grub themed a la carte menu. I've had just about everything from it and I'd say only the hamburger was the only let down, mainly because I think the brioche bun they use is too strong in flavour. The best part about the mains is you get to pick which of the salads of the day you want with it - the pumpkin is my favourite option.
The scotch fillet with chips and salad for $22 is my favourite meal because a) it's great value and b) the chef actually cooks it to order, which for some reason a lot of so called restaurants can't seem to get right. Other surprises - the house made chicken nuggets are epic, the gravy is a brown taste senstation and the always perfectly cooked hot chips are definitely top 3 of all time in my books.
Overall nothing fancy here - just common dishes done well at a great great price.
Finally, the service is always fantastic. Danson and Dee always take great care of us when we rock up for our dose of Cafe 21 Smith, I secretly call them the Double D guys. Danson already knows to start prepping my wife's Halo Halo dessert before we've even sat down. All the other staff are great too as well :)
My family and I have regularly visited here since they opening last year, but being a the responible food blogger that I am, I like to try new places as much as I can, however this is one location I'm happy to come back to regularly. Awesome interior, great value food, friendly service and oh my goodness the chips!*
* Any body still remember that insurance commercial from back in the day - "oh my goodness the chips!"
Contact details
Opening hours
Sunday:
6:00-22:00

Monday:
6:00-22:00

Tuesday:
6:00-22:00

Wednesday:
6:00-22:00

Thursday:
6:00-22:00

Friday:
6:00-22:00

Saturday:
6:00-22:00