review
The Precinct Tavern's new dinner menu
• By Brieoncyé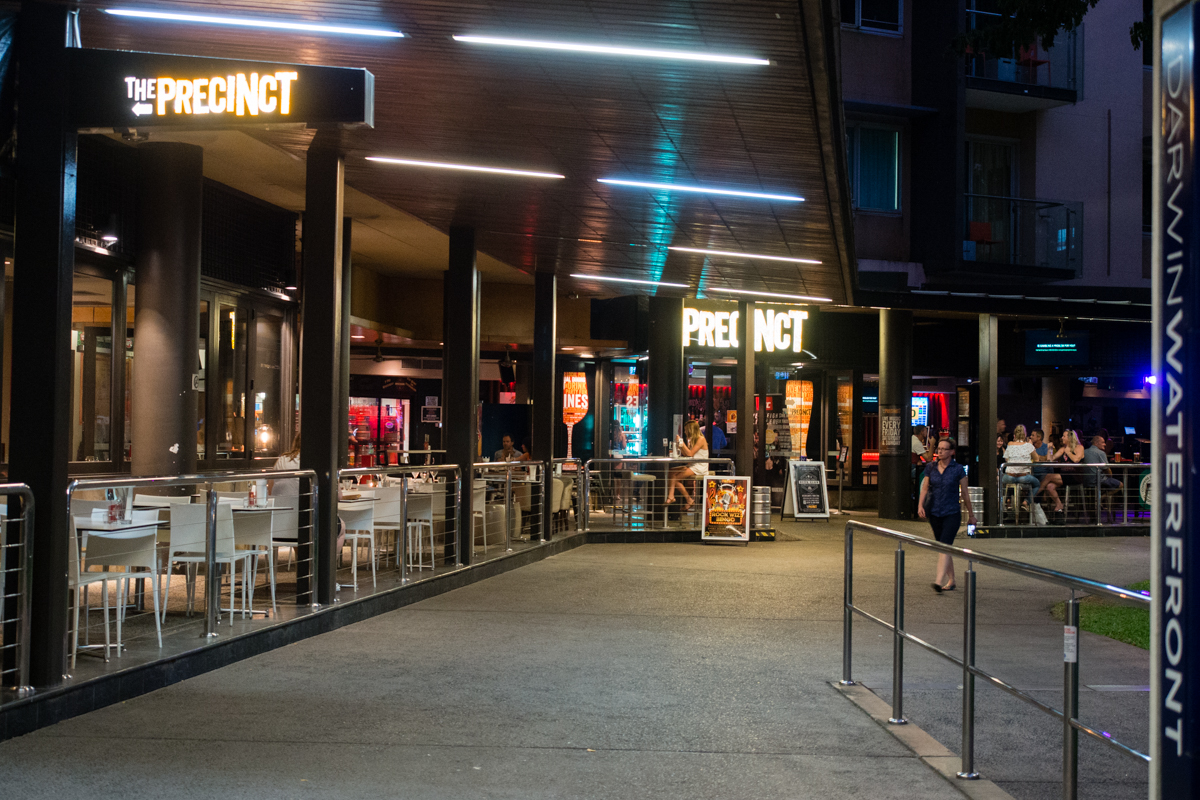 Seeing as it's Masterchef season, we thought we would take our newly acquired, and probably not the greatest, food analytical skills for a whizz to see how many times we could use a Masterchef reference. And boy did we succeed. 
We headed on down to the precinct tavern, a place we hold close to our hearts all thanks to their glorious wedges, check them out if you haven't already. Thanks to our friends there sending us the menu before hand for our perusal, we were bursting with excitement once we stepped foot inside to order the preselected delights. 
Entrees
We started off with beef cheek sliders, and in the words of our beloved George C, yum, yum, yum! The great thing about sliders; they're small enough that they satisfy any burger cravings, and they look cute too. That said though, I was ready to steal all three after the first bite. The meat was drool worthy, melting in your mouth and giving a zing from the marinade. Paired with the crunch of radish and celery, not a combination I would pick, but loved regardless, and a herb aioli we were on cloud nine. This dish gave us high expectations for the rest of the evening, and we weren't disappointed. 
Mains
Let's get one thing straight, we love our meat. But when given the opportunity to eat pasta, we won't say no. The menu reads 'Roast Pumpkin Cannelloni with fresh tomato sauce, wilted seasonal greens, salsa verde and parmesan'. Simple, refined and delicious right? Delicious yes, simple not so much. The pasta was cooked to our perfection, and the roasted pumpkin filling ticked all the boxes. But the sauce. THE SAUCE (insert droll emoji here). Let me paint the scene, first bite of pasta is amazing, al dente cannelloni tubes filled with roasted pumpkin, slivers of onion and parmesan cheese to top. The second was coated in the sauce, and this is where the Masterchef skills come in. There was something about this we couldn't put our fingers, or tastebuds, on. It started out as a light tang, and as we consumed more of the delicious substance it turned into a blaze of flavour that demanded to be noticed. Each mouthful was a guessing game between us of what could possibly be in this sauce. Was it jalapeños, was it capsicum, was it some gastronomical feat that captured fire in a sauce. Before we knew it the dish was done, our tastebuds were singing from the beautiful combination and eager to know what this mystery ingredient was. After much deliberation, we turned to our friendly waitress to find out what was in this sauce, and the answer: Tabasco, which is now my new favourite thing to put in tomato sauce. 
Guys, Beef Short Ribs. You can never go wrong. Beautiful succulent ribs, coated in a sweet sticky sauce full of aromatic spices, paired with creamy mash potato and a tangy slaw. Seriously, just look at the photos, if they can't convince you that this dish is worth eating, then I don't know what would. On its own, this sauce would've been too sweet for us, but paired with the meat, mash and slaw, 10/10 combination. If you are thinking of ordering this meal to share, word of advice, don't share. As soon as you partake of the wonders of this dish, your inner Golum will emerge, and don't be surprised if the words 'my precious' float around in your mind. So do everyone a favour and order seperate dishes, if not.. well, don't say we didn't warn you. 
Desserts
I'm one of those people who when someone asks what may favourite food is, I say dessert. The possibilities are endless, and it's always exciting seeing a new dish for the first time. So when offered the chance to try dessert I grasp it with both hands. We were so keen for our pre-picked desserts, we ordered them with our mains, which is what everyone should do now because you get dessert faster, and if that isn't great I don't know what is. 
We chose the Coffee & Hazelnut Semi-Freddo and the Dark Chocolate Brownie. Even just saying those two names is enough to make you drool. Being the lover of coffee I am, I jumped at the chance to get have two of my favourites combined, and boy, did I get it. Velvety smooth semifreddo, just the right hit of espresso, added with the glorious crunch from the hazelnuts and an added sweetness from the white chocolate ganache. I'm not the biggest fan of white chocolate, but on this dish it made sense. Each element worked together and as a whole was a dessert I'm itching to have again.
But we can't forget the brownie. The warm, fudgey brownie, paired with the cold creaminess of the icecream, and the zing of tartness from the berry purée gave us an almost perfect experience, all that was missing was some crunch and this dish would have been heaven. In saying that, we still polished off the plate in record time and were left with our tastebuds singing and our bellies content.
Conclusion
I have one thing to say to the Precinct, job well done. From the moment we entered, the atmosphere, and the staff, were warm and welcoming ready to serve us our delights. The babble coming from the bar next door provided some great background noise, with the occasional laughter and shouts of excitements.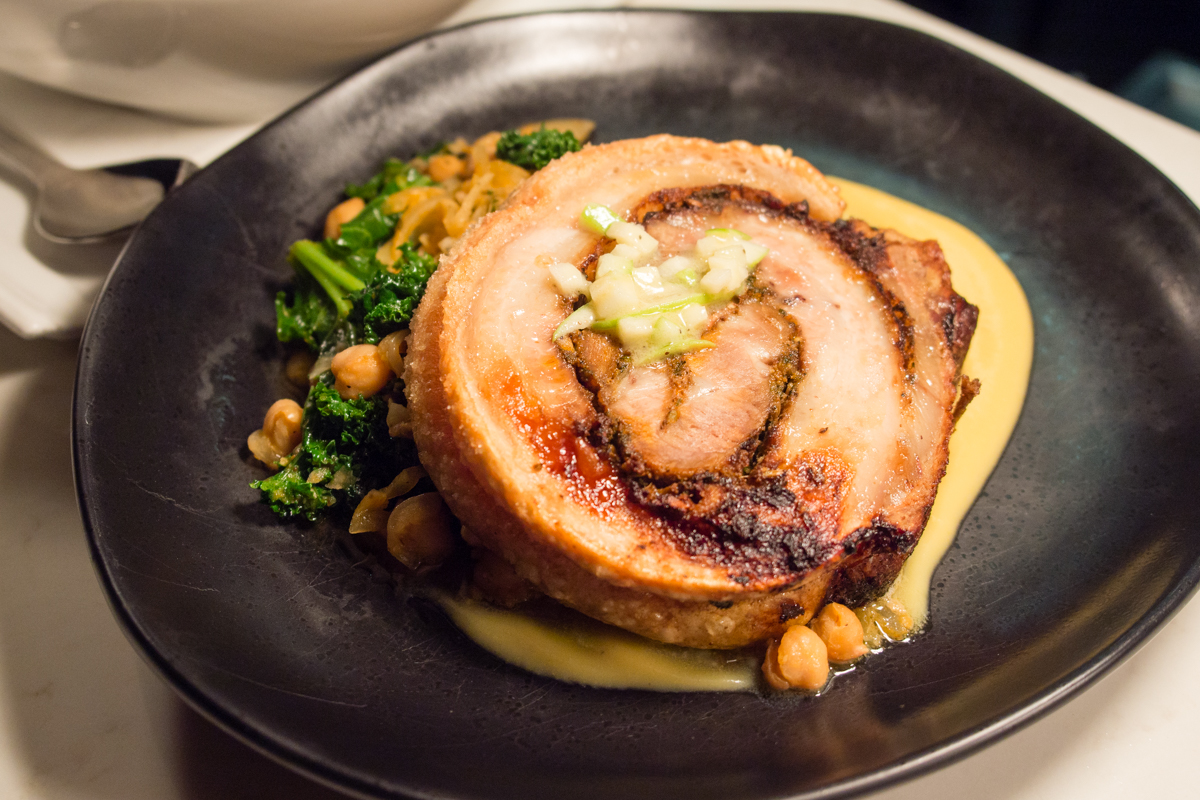 Overall, we were thoroughly pleased with the meal choices we made, and are excited to go back and sample more of the menu. As our mate George would say; boom boom, shake the room!