review
The Bell Bar & Bistro
• By Brioche of Tarth
If you haven't been already, Bellamack is the new suburb to be in.
Along 127 Flynn Circuit there is a small conglomerate of shops: there's a hairdresser, a minimart and a few cafes and restaurants. A couple of the cafes have already changed hands, but that's because the economy hasn't been too great. It's always good to support local when you can, my personal motto is to always treat yo'self!
The Bell Bar & Bistro is a little different from the other eating spots – it's a family tavern that serves family favourites till late into the night and were very kind enough to invite us for a taste. 
Family tavern
The restaurant is split into two sections – the family side is on the right where the sound proof playground is, and on the left there's a wall full of TVs with the latest races on screen and a TAB. A handy dandy Bottle-O is located at the back of the restaurant too.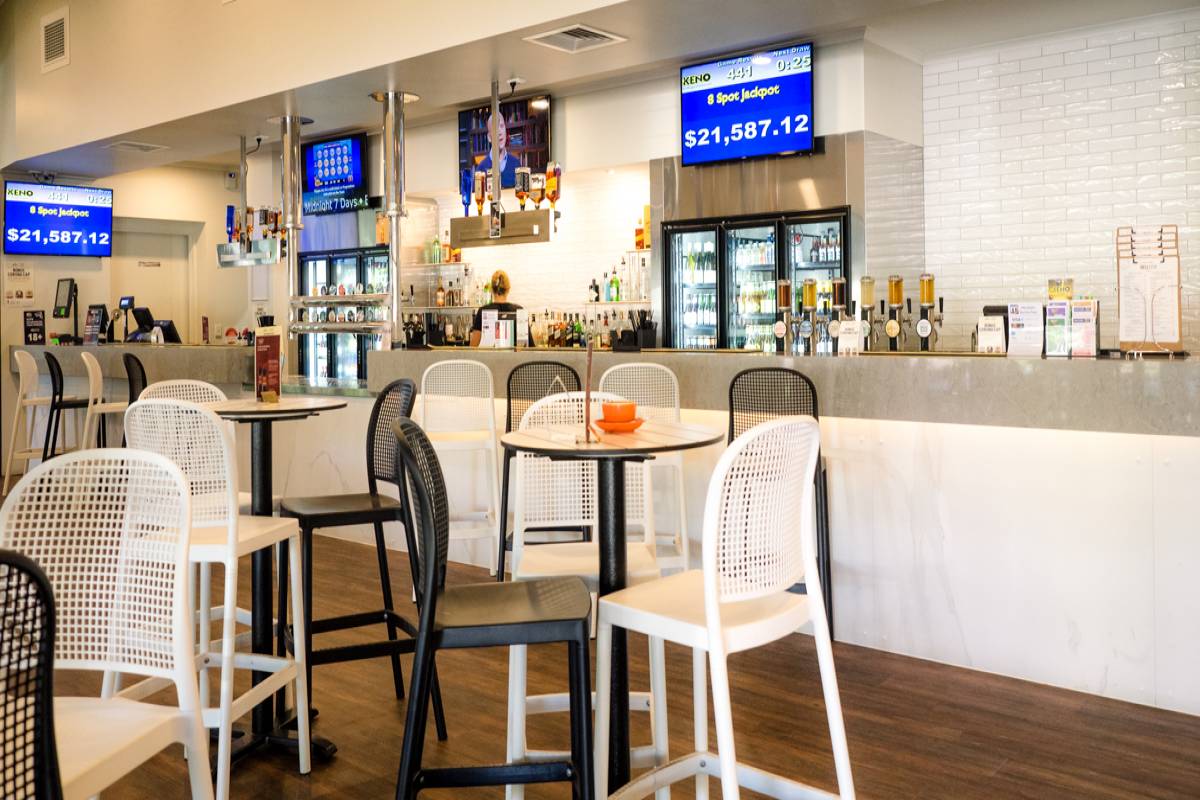 We did try to get in for a taste for dinner when The Bell first opened in May, but it was packed as heck so we decided to come back later. 
Three months on, the restaurant still seems to be perpetually packed!
Lunch
The pizza was first to arrive, a very colourful very well put together Giardino. Everything on the pizza was thin, from the pizza base to the toppings. We really liked how the house-made base was very light, and the toppings weren't over the top, so everything stayed put on the slice. 
Fresh mushrooms, capsicum, butternut pumpkin, cherry tomatoes and a generous sprinkle of fresh basil and dots of house made pesto. Can't go wrong with that, mmm-mmm. 
The sugo (tomato base) is also house-made, a mix of slow roasted tomato and herbs goodness, much like the nonna's make it. 
Will eat again 10/10.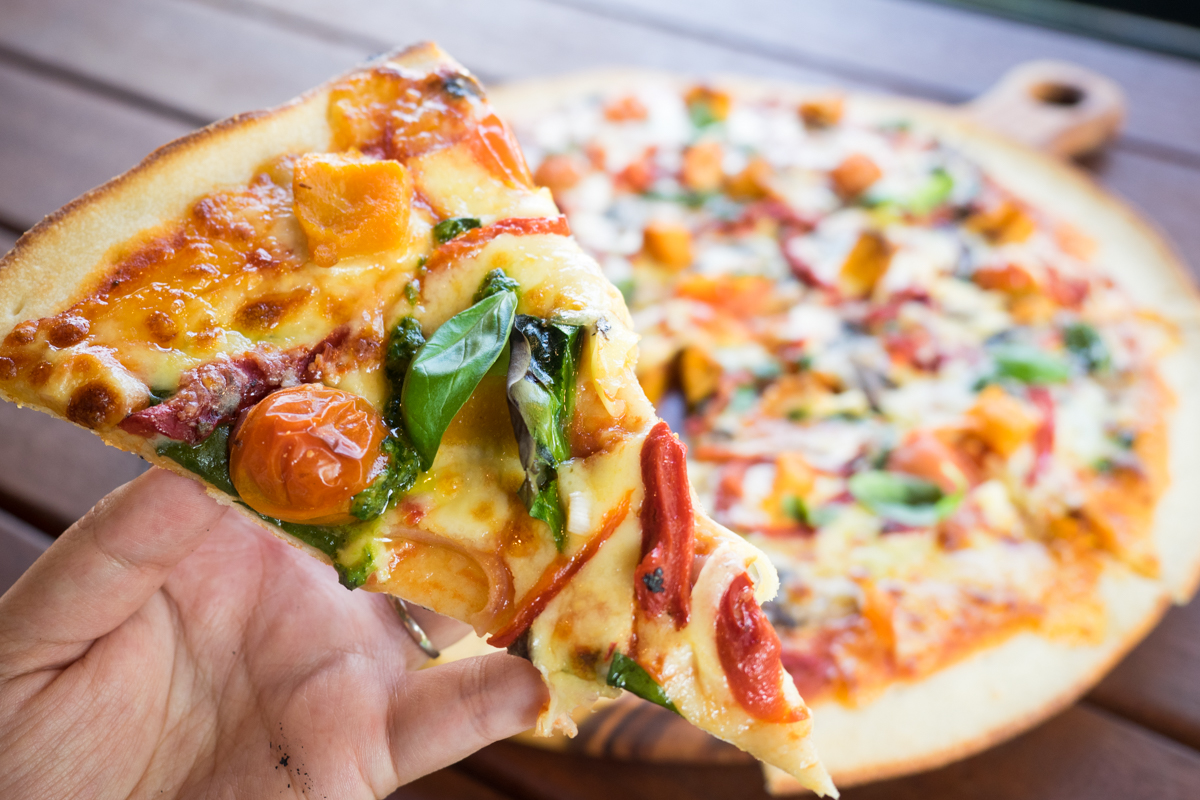 The other food suddenly appeared on the table all at once! Starting from the bottom right (salad) going clockwise, rapid fire style:
Grilled Chicken Salad ($20). Done almost Greek style with K-olives and the feta was super refreshing with springy citrus dressing. Generous serve of chicken, perfect for sharing or for one. The greens were very fresh, cucumbers deseeded (which seems to be a rarity?!) and every ingredient was proportioned well.
I'm not particularly one for salads, but this I had no problems inhaling.
Local Beer Battered Barra & Chips ($28). ASMR worthy crunch from their special gluten-free batter. You read that right, gluten intolerant folks! The decent slabs of firm white fish were perfectly cooked inside, and that outer crunch still gives me goose bumps, hnggg! The batter was light, ridiculously crunchy and had virtually no residual oil in it, so there was only pleasant mouthfeels. 
Hear it for yourself
Chicken Schnitzel Range ($20 - $24). Another house favourite is their crumbly chicken fillets. The menu offers different toppings, but of course the parmy is the way to go. Beaten and crumbed, the fillet was just pink enough, not the dry cardboard stuff you might encounter at other places. Great for the blokes because it's a bloody enormous serve! 
Laska ($20). This bowl of chicken laksa has the works: yellow hokkien noodles, thin rice noodles, fried tofu puffs, bean sprouts, chicken by the chunks… I wasn't expecting anything extra-ordinary TBH, but when the soup hit my tongue I was surprised by the zing and spicy heat it had. There wasn't a lime, so where was the zing from?! 
Definitely of the Thai variety, the soup was very yellow from the curry powder and turmeric, but that extra flavour was different yet familiar. The extra spice and tart finish brought the soup to another level altogether and cut through the fatty coconut cream. (I drank about half the bowl of soup trying to solve this conundrum.)
It was a dash of good ole' tom yum. 
Wholly enjoyable, and would recommend all the laksa fiends to come for a taste. 
Sneaky dinner
After the lunch I was pretty satisfied with what I got to taste, but there were other things on the dinner menu that I was interested in. Later in the week we headed back to The Bell.
It was a little past 7pm and unsurprisingly packed on the inside and out. We were going to order pizza but someone had made a massive order of pizzas so the wait was more than 45 minutes so we decided on two mains.  We paid for our order then sat ourselves in the quieter area near the screens. It was nice to just sit and relax a little and chat over a couple of drinks... till we looked at what time it was. 
Our meal didn't arrive till quite a while later.
OK, I've seen a few "bad" comments that service can be slow, but if you look around the tavern it is filled with family clusters of 6 or more and orders can get very big, very fast. The kitchen was slammed and they really try their best to keep up with orders. There's always room for improvement, no matter what establishment it is. 
My partner had the pulled pork burger and he was so hungry that I didn't get to have any! The meat was succulent and still juicy, but the marinade was a tad too sweet for his liking. "It could have done with some saltiness to offset the sweetness." The bun could have used a little more time in the toaster to "get that crunch element".
This salmon, on the other hand, was done pretty well. The salmon steak was pretty decent size and the vegetables were just cooked, hooray for fresh crunch and that shine from EVOO!
It was nice to be asked how I would like my salmon cooked. At medium rare it was a little dry for my liking, but the seasoning was on point.
Conclusion
Overall, it's a great tavern! The Bell frequently have game nights and for the latest State of Origin they brought in a massive screen on the lawn. 
The kids' meals are impressive too – eight easy favourites and a drink is included. Check out their whole menu on Facebook.
On a side note, it is heaps quieter during the day and a nice spot for meetings. (Free WIFI is a plus point.)