review
The Cupcake Field
• By Brioche of Tarth
The best cure for a mediocre week is to indulge in a few of these delicious morsels. At least 6, to be exact! ;)
Amy Field, who started the cleverly named The Cupcake Field in 2017, was ever so kind to give us a platter of her favourite flavours to taste:
They obviously didn't last very long in this household. 
Most of the cupcakes had a yellow cake base, which is cooked al dente style with a moist, medium crumb that wholly complimented the generous pile of buttercream icing which, much to our relief, wasn't tooth achingly sweet nor tasted like a block of fat. The two chocolate-based cakes were excellently fudgey. 
The Strawberries & Vanilla was lovely with strawberry jam mixed in, and the Mint Choc Chip was like eating an After Eight.
In a clever turn in the flavour department, the Cookie and Malteser was a combo I've never had in Darwin before. I think I might have been dreaming, but I could have sworn that the cookie one had cookie dough in the cake base with chocolate chips in the mix. How cute is it?!
The Malteser was great, with a bits of chocolate mixed into the icing. I did wish it had more of a malt finish like you'd find in a thick shake, but that didn't stop me from enjoying the cupcake. 
Hint
for optimum deliciousness, let your cupcakes rest at room temperature for 10 mins before face stuffing
Ah, the almost overrated red velvet.
I've had my share of red velvets in my time and there's always that niggling thought of how much colouring is used – some recipes call for a half bottle of the dye and most of the time the chocolate flavour is lacking.
I was pleasantly surprised with how much of a chocolate kick The Cupcake Field's one was, and I appreciated that it wasn't an oversaturated shade of blood red.  And that perfectly tangy cream cheese rosette… mmm-mmm!
Beautifully executed and easily my favourite cupcake of the lot.
Salted caramel and lemon cheesecake I hear is one of the best sellers and I can totally see why - the caramel to icing to cupcake ratio is perfect and there's a surprise stash of caramel in the cake! 
Overall experience: You absolutely have to grab a cupcake or two from Mosko's Market (Palmerston Library) or Nico's Coffee (Gateway) where they're currently stocked, or you can get in touch via their Facebook page to make a custom cake order.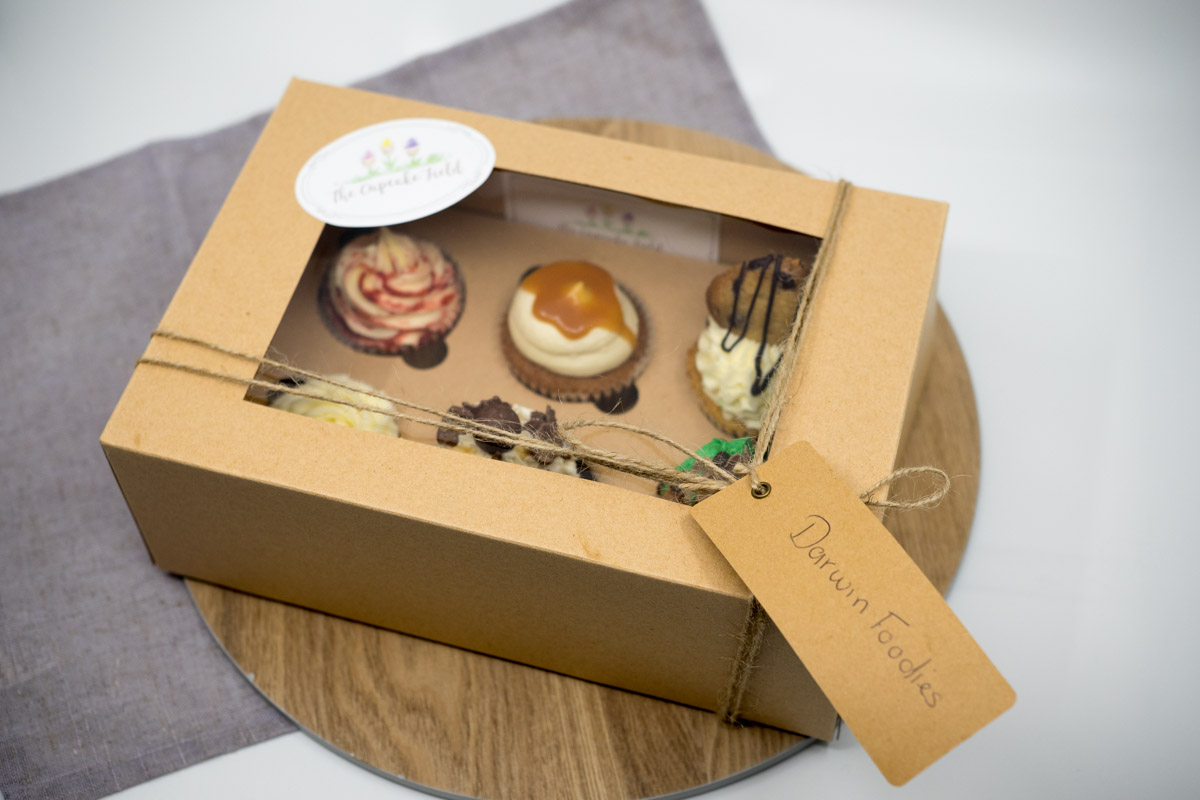 P.S. Custom Pinterest-worthy cakes 
Nothing much for me to say here. I mean, just look at that fantastic fondant art!!!