review
Madame Za
• By Bean Curd
What an entrance. Your beauty will forever be digitally imprinted on my computer's wallpaper until another strikes my sights.  
Hotel Restaurants are really making a mark in delivering some serious food and Madame Za has pinned itself on my repeat food outings. Queue moody lights, chilled music and storying telling décor and you got yourself a restaurant oozing oohs and aahs and sophistication.  
Feeling a bit parched? No problems, waltz on over to the impressive bar and grab a cold beverage and while you are at it have a glance into the two dedicated fancy wine / spirit display cabinets. I had to do a hard pass as I needed to be fully focused on the main event, food, but if you want to get sloshed, you'll be well catered for here.
The extensive menu is a contemporary Asian fusion and has a series of premium cuts of meat from the Butcher's Selection on offer and for those adventurous eaters can try some Kangaroo.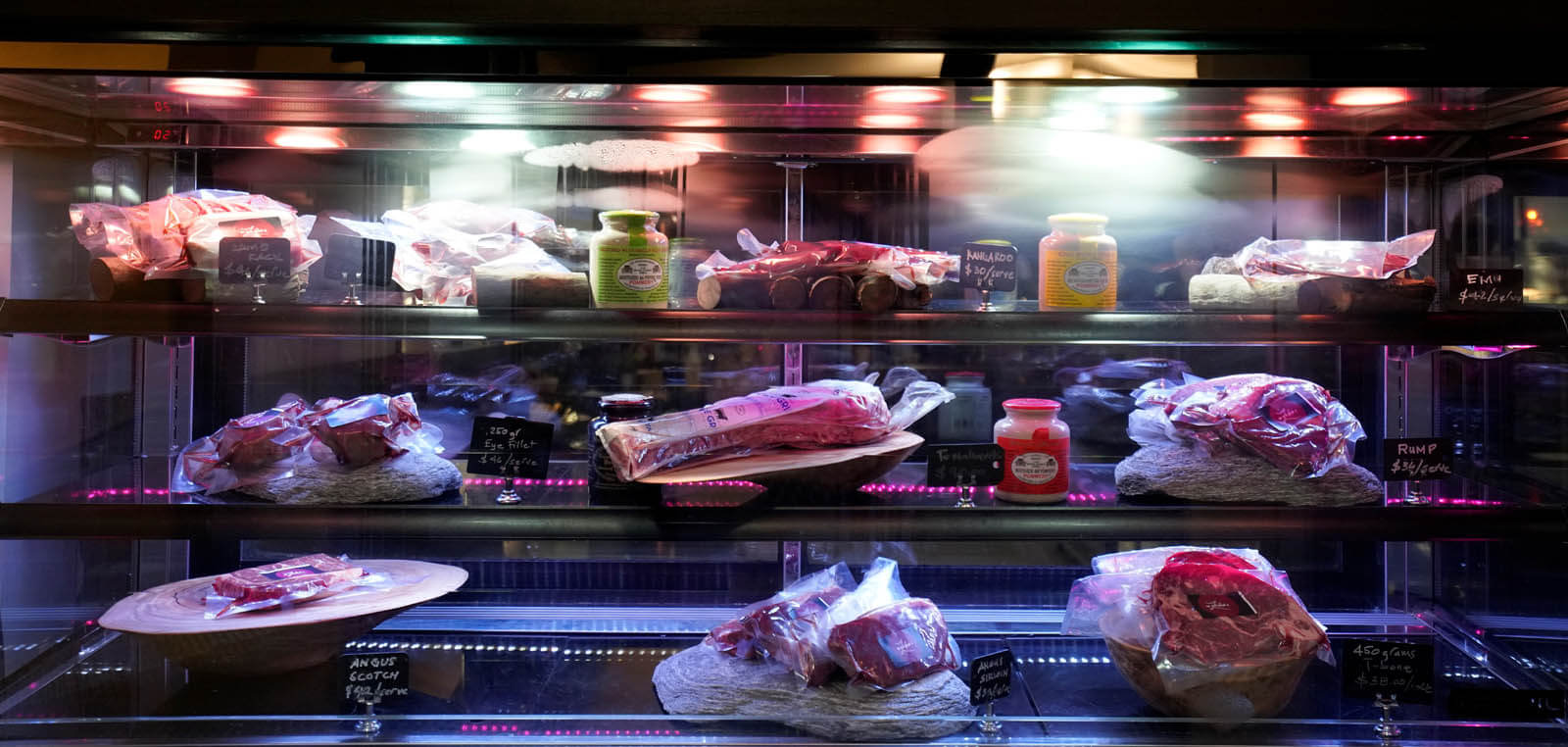 We started off with Hervey Bay Scallop with Nam Jim Sauce, Crispy Shallot and Brown Butter. The scallops were cooked to perfection. Translucent and buttery smooth with a good dousing of the gorgeous Nam Jim and brown butter sauce topped with crispy shallot was a delightful one biter. I could do with more citrus in the Nam Jim Sauce but what a fantastic way to start menu. 
Next came the Vegetarian Nasi Goreng and Pandan Chicken, Sambal and Honey Dipping Sauce. Oh boy, what happened here? The nasi goreng was more like a vegetarian risotto. It was gluggy but its saving grace was the flavor. Maybe the rice gods just had a bad night.  
Onto the chicken. Presentation was great but was the all the effort wrapping it up into parcels worth it? My husband straight up and said, "Nope. Did they use chicken breast? Oh wait, it is thighs. No way how thighs could get so dry and chewy?". I concur but still tried to find the positives but, in the end, I raised the white flag. It was like witnessing the chicken and sambal sauce trying to fight for their foodie marriage, but it just couldn't. The sauce was overbearing and probably should have been served on the side.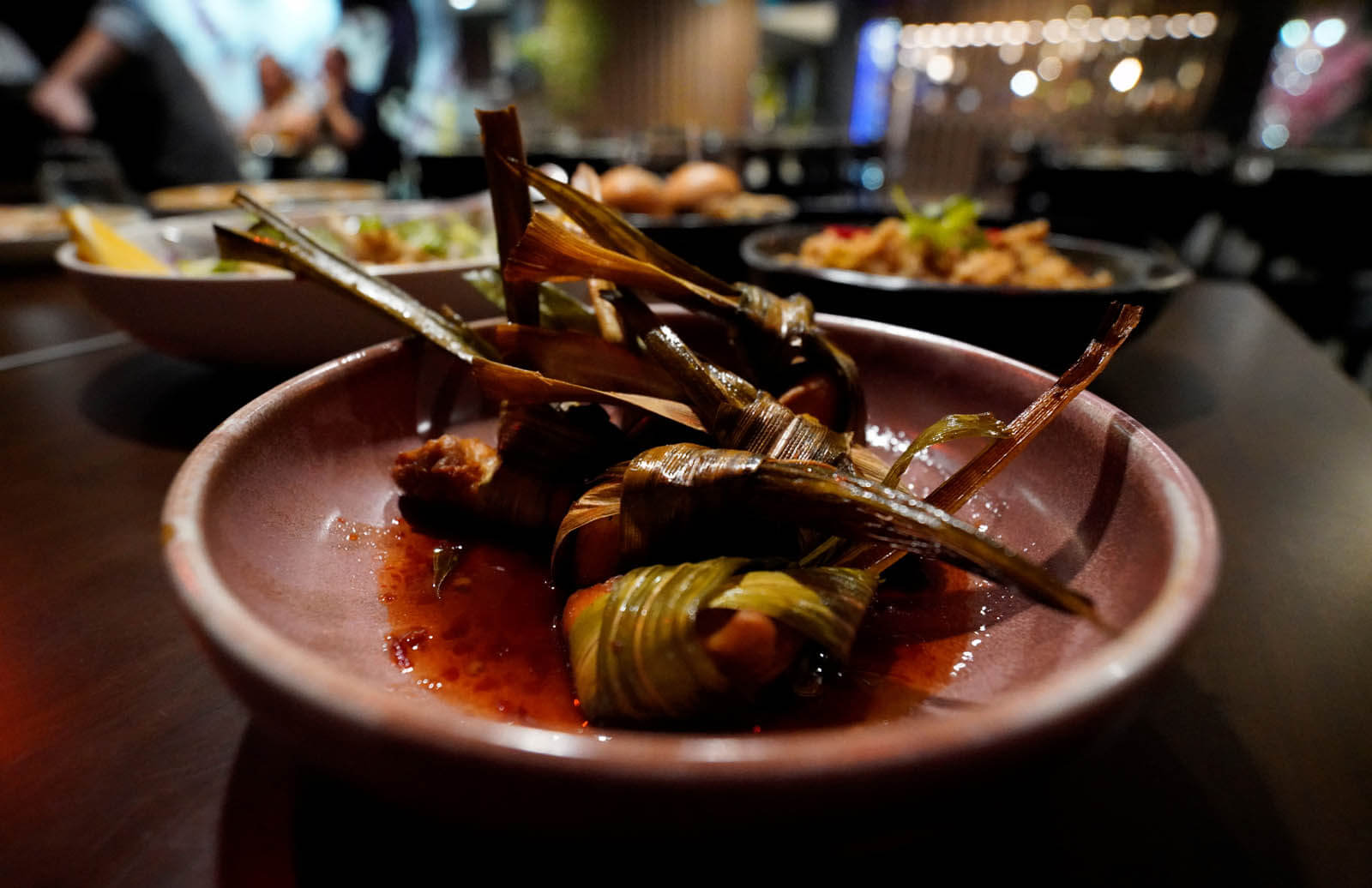 Okay now Madame Za is back in business. The predator looking soft shell crab slider was the bomb. Excellent bun to crab to salad ratio and a good layer of spicy aioli. The crab was crunchy yet soft and the salad and aioli complemented the natural sweetness of the crab. I had to keep shooting eye daggers at hubby as I left half my slider to finish our mains on a high. 
Out came the charred squid and hallelujah, it was delicious. I could easily eat this dish on its own. The spice rub was subtle and aromatic. The squid had textbook charring and was perfectly cooked. The salad is a great pairing with the squid and to top it off with some shredded mint and a squeeze of lemon help elevated the dish, especially when the sesame dressing can be overpowering.  
At this point we have reached food coma status but there is always a reserved tank dedicated to desserts. 
I took on the Chocolate Pavlova and Pandan Custard and hubby opted for the Coconut and Macaroon Cheesecake.  
Unfortunately, by the time I pulled myself out of my food coma, the waitress had delivered my chocolate pavlova and the theatrics was done. Okay stay with me and visualise this.  A chocolate tennis size ball resting on a bed of crumble had some hot chocolate lava poured all over the surface to melt the barrier to reveal a dome shape pavlova swimming in a pool of pandan custard. Verdict, it was okay. It was chocolate overboard and could do with more pandan custard.  
Now out comes this mini Heston Blumenthal creation. I legitimately looked around to see if the God of Desserts was in the house, but he was nowhere to be found. As the waiter placed the cheesecake down a plume of cool clouds surrounded the sugar dome. 10 out of 10 for the theatrics but as a sweet tooth person, this dessert was extremely heavy. First tasting was great but after a couple more it got way too much. It really needed some relief from the heaviness.  
Overall excellent experience and will definitely be heading back to try the butcher's selection and hitting up the bar as well. 
Contact details
Opening hours
Sunday:
11:00-21:00

Monday:
11:00-21:00

Tuesday:
11:00-21:00

Wednesday:
11:00-21:00

Thursday:
11:00-21:00

Friday:
11:00-21:00

Saturday:
10:00-21:00