review
Char's new menu
• By Brioche of Tarth
Well COVID's been an absolute horror. The last two years just whizzed by, full of takeaways and empty supermarket shelves. I hadn't gone out to eat in a restaurant since our last review in 2020.
But now that the 'new normal' is less frantic and we're all more compliant with the rules, I felt like it was time to emerge back to the world with some quality steaks, and where else would you go but to Char?
(Also, they were very kind to have us over to review their new menu.)
Drinks
We're doing dry January so it was just mocktails for us. The Darwin's Only Virgin was just the right amount of sour and sweet, and I could have had a double if it wasn't for the ridiculous amount of food we ordered. 
My partner ordered the Skipper's Delight, and boy, oh boy it's a tart little one. The smoking cinnamon stick was a nice touch, and it worked like a Palo Santo and washed the bad 2020 jujus away.
Appetisers
First appetiser rolls in (hurr hurr). The spring rolls are light and flakey, and not oily at all. The meat filling was tender and with a mild mustard flavour, which was only outshined by the salty caramel sauce. I could have had the sauce just by itself with a big bowl of rice! If you haven't tried chinese caramel, it's a bit like dark soy sauce but sweeter and thicker.
OK, confession time. I'm a garlic bread fiend. I will inhale a whole slab if allowed. Char's garlic bread is definitely one to try! It's a rather complex take on garlic bread, but I liked where it was going. 
The fondue was a delicious mix of sweetness from the ale and earthy notes from the gruyere, and had a good spicy kick from some cayenne. The overall flavour of the fondue was rather strong, so if you're not a fan of ale this might not be a dish for you. 
Can't go wrong with jamon and confit garlic, but this loaded cheesy garlic bread just needed a bit more of a garlic punch, so I think a raw garlic rub on the toast would do the job. 
Mains & Sides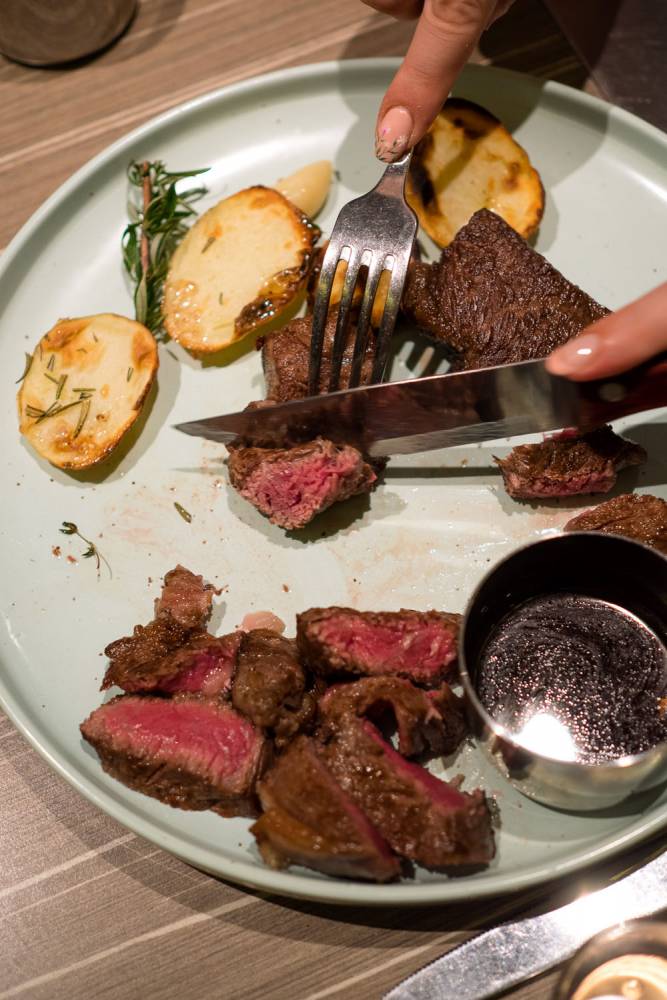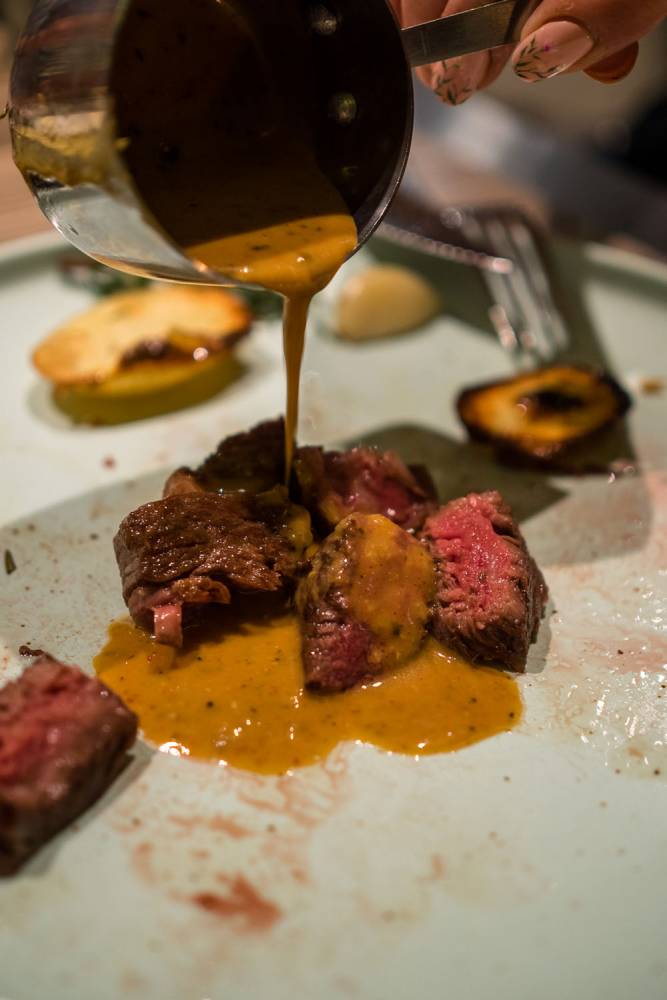 You can't come to Char and *not* have steak. 
We got the tasting board, which was the wagyu rump and wagyu blackened rib eye. If you haven't had a go at trying some marbled meat, Char is a great place to get it. The cooking of the meat was to perfection, with very even sear on the outside and a gentle cook on the inside for a perfect medium rare.
The rump was incredibly flavourful and not tough at all, and the ribeye was just a wonderful slab of meat butter… and I was a little sad we had to share the platter because it was perfectly sized for one very hungry Foodie. 
I usually have steaks without sauce, but one of my partners of the night said the wild mushies and red wine jus was not to be missed. Red wine jus was incredibly balanced and not overpowering, and the mushroom sauce was just an unami bomb of flavour. I really appreciated the mushrooms being finely chopped to give that bit of textural mouth feel.
Also a quick PSA, if you're going to a fancy restaurant and getting your steaks cooked well done… just don't.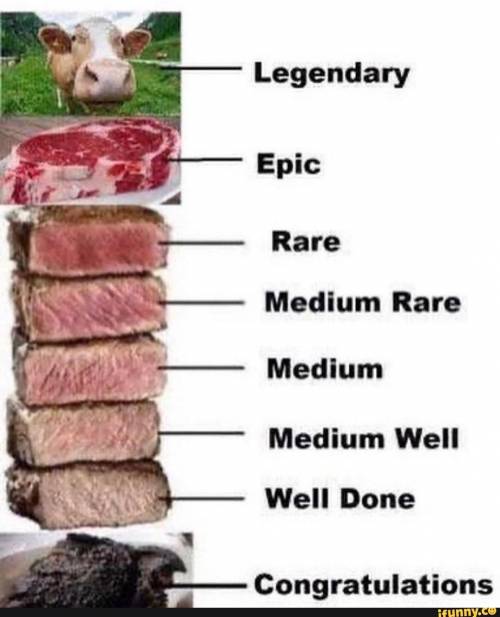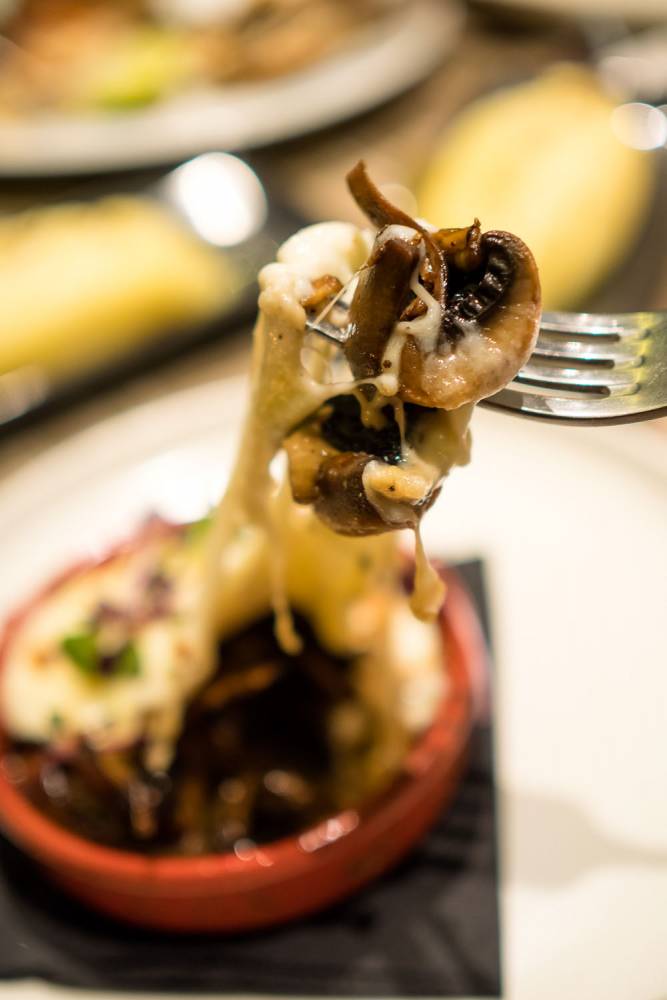 The mushrooms tasted OK, the cheese melt on the top turned solid pretty quickly (but that could've been due to us taking photos before digging in - a negative of the job, hah). Unless you're a true mushie lover, there's probably other sides you'd enjoy more but we would order this again. 
The mash is signature for a reason, fluffy and amazing. To say we'd been holding out for this dish for months is an understatement! Although we remembered there being a hit of truffle last time, it was still a beautiful accompaniment. Order more than one, or be prepared to battle it out for who gets the last scoop. 
Thoroughly enjoyed the fish, perfectly fried and that soy is *chefs kiss*
Loved that it wasn't oily and dry so that's a testament to the chef's skillz. 
The spaghetti could be a new favourite! The sauce was an unami bomb, and just the tickle of chili to then hit with that lemon. Simple, delicious combo that also went incredibly well with the steak. (It was a surf and turf party in my head)
Last look at that steak ❤️
Dessert
As if we didn't order enough food, we had one dessert to share. After much deliberation we decided on the chocolate mousse. 
Visually, it's beautiful. But TBH the dish tasted a little flat. 
If you're a fan of the simple chocolate + mandarin combo, this is a great dessert. The mousse and chocolate shell could have been a little on the darker side for some bitterness but that's just my rich palette talking. 
This was the dish we were debating to get, and now kinda wish we had. We hope whoever received this beauty enjoyed it.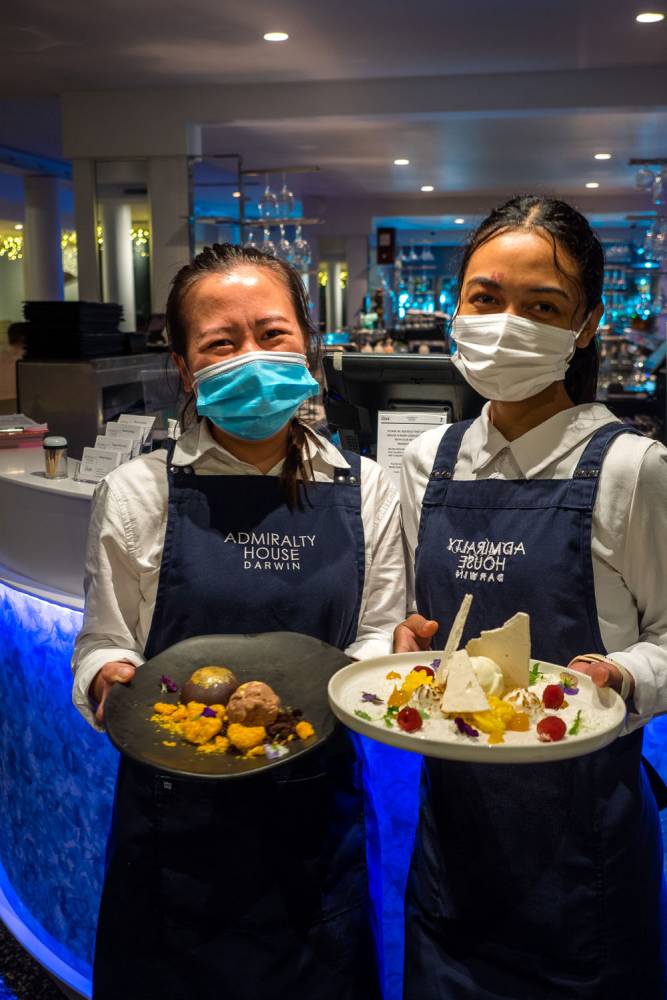 Overall
The service at Char was excellent. It was nice to see the same care and attention we received given to our neighbouring tables! Pandam the floor manager for the night was incredibly patient with me because I asked him about the steak platter like, 5 times ha ha.
We barely made a dent into the menu so we'll definitely be back for more. Thanks again to the Char team for having us, we throughly enjoyed the dinner ❤️