review
PepperBerry Restaurant
• By Brieoncyé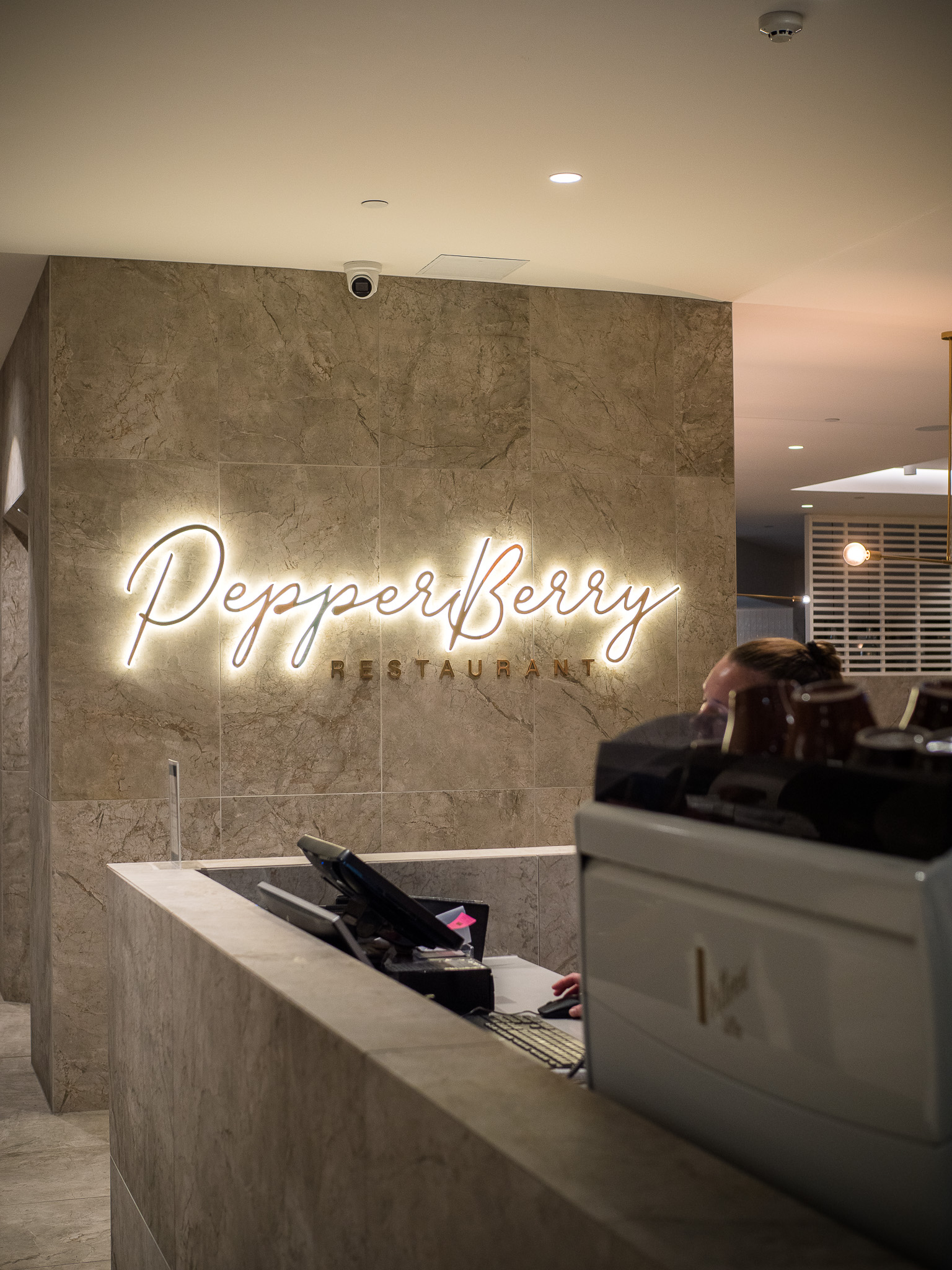 You just know you're going to be in for a treat when you hear there's a fresh new menu at PepperBerry - and we got treated.
Setting the scene by walking into the Hilton, you already feel fancy as, although on the night we went there was a group all dressed in Hawaiian shirts with a massive cut out of Elvis. Don't know what was happening, but in the words of the king himself: don't criticise what you don't understand, son. (I never knew that was an Elvis quote, but thanks Google). 
But I digress.. walking into the restaurant itself, there was a slight wait for the rest of the foodies which gave me ample time to stare at the gorgeous wallpaper (IYKYK). Once they arrived we were treated to a full rundown of the menu, and let me tell you, she's a hefty one.
We would highly recommend trying out the Wine + Dine Experience if you're overwhelmed with choice (which is easy given the many options available), but we had a game plan so here's the play by play. Also for fun, each dish gets a rating out of five berries
, because pepperBERRY ya know. 
Entrees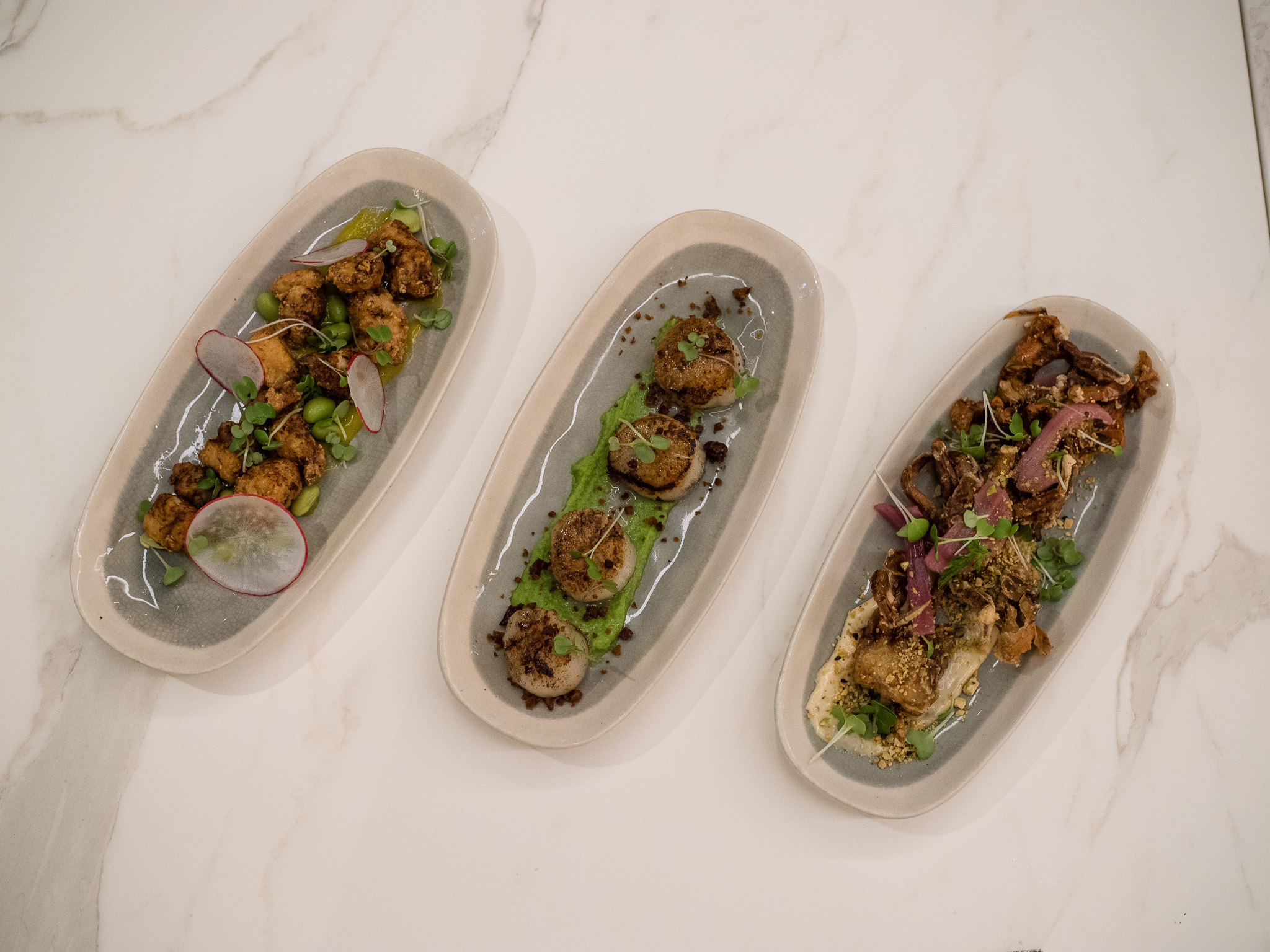 Look, I know bread oil and dukkah could be considered a boring choice - you'd be wrong
We'd not intended going in to choose mostly seafood for starters, but thank goodness we did.
Scallops cooked great and pea purée was amaze - trust us to love the truffle element without knowing it's truffle 
Okay please give us more  
This was probably our least favourite of the bunch, but we would order again. Give us a little more sauce, a cut through citrus element, and make the pieces slightly bigger and we'd be happy little crocodiles
It would've been extremely easy to order a second round of our entrees and be content for the night, but we didn't know what was coming...

Mains
Thoroughly impressed by entrees and the changes made already - we were quite ready for the mains to come. To make the wait time easier, we asked for a surprise mocktail (can't go hard on a weekday!) and the bartender smashed it. 
Smashed berry and lime mocktail 
We're suckers for anything slow-cooked, and this dish gave us all the comfort flavours you expect from braised beef cheek. Unfortunately the wattle seed flavour got lost in the mash with the other elements overpowering it. If you're after something safe and homey - this one's for you.
It's not often that we brand something as 'just good' but this was 'just good'. The flavours all hit the mark and the meat to pasta ratio was balanced extremely well. Sometimes all you need is simple flavours done well together and that was this dish.
 Alright guys, THIS.
There's usually a star of the night and boy oh boy this one did swimmingly. The Snapper had been infused with gorgeous massaman spices, and was cooked perfectly. We know it's easy to leave the veggies off to the side of any dish, but we happily scoffed these ones down when combined with the lime and coconut sauce. We were not expecting this dish to outshine everything else, but it came in and stole our hearts (and tastebuds).
Even now, just looking at images again I'm ready to jump in the car to go and devour.
Sides
We were kind of expecting the carrots to be slighlty sweeter than they were given they were coated in a pomegranate molasses, but were a good addition nonetheless. The hazelnuts could've been left off and it wouldn't have made much of a difference - the carrots were crunchy enough and could've benefitted from a few more seconds in the pan.
Don't come at us for getting fries (although as the potato fiend I am, these are definitely classified as chips). We'll always choose deep fried crispy potatoes if it's on a menu and these ones didn't disappoint.
Dessert
I'd be lying if I said I hadn't chosen my dessert before anything else (perks of being the first to arrive and scour the menu), so I paced myself to leave room because I was not missing out. Although the other foodies were content to have the last thing they ate be the fish dish - they eventually caved because hello, dessert.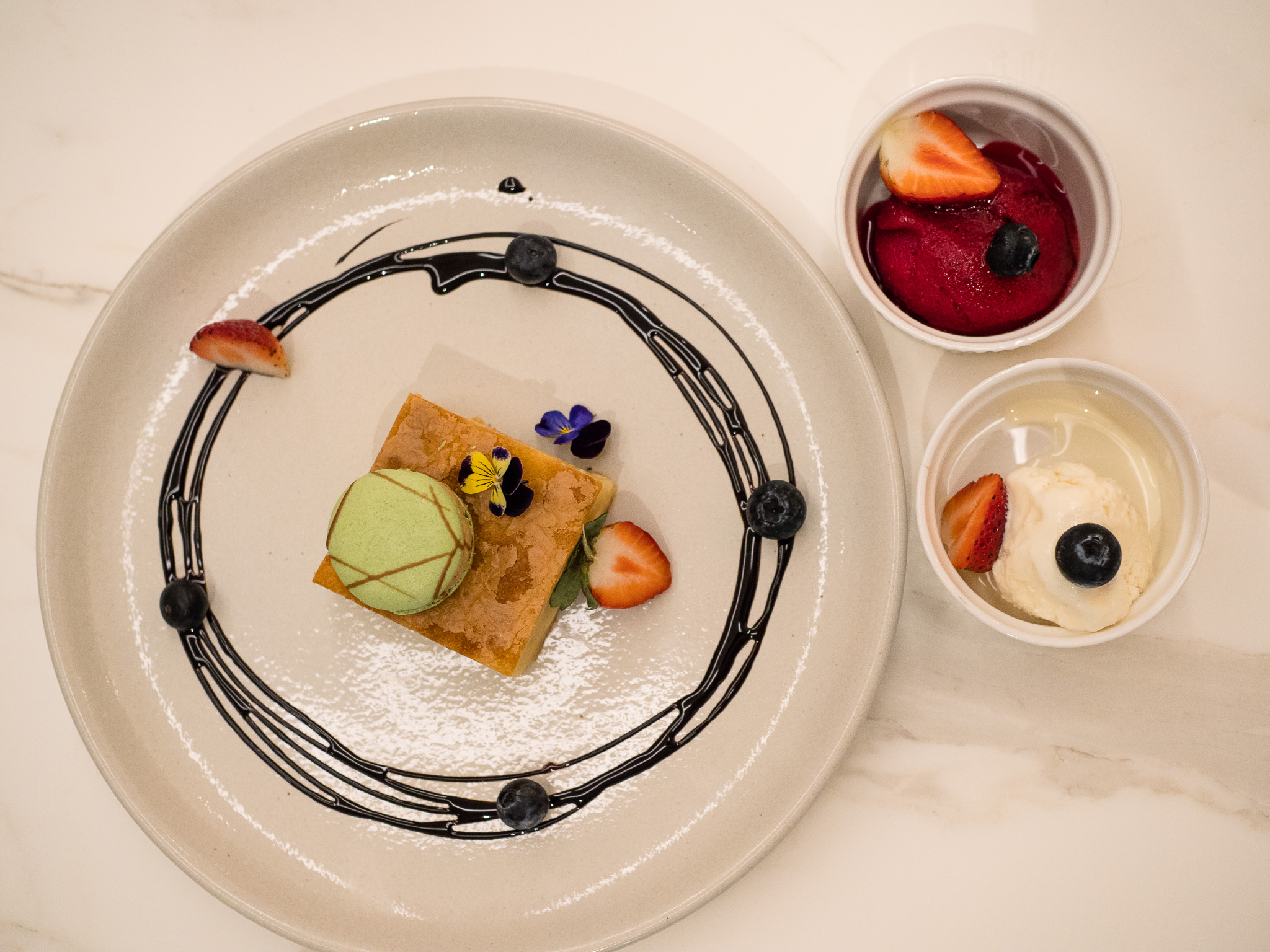 Unfortunately when we were there, the pistachio gelato wasn't available so we ended up with a raspberry gelato instead (and were kindly given a pistachio macaron too). This dish did cause a small divide on the table though. In my (not) humble opinion, it was cooked perfectly for a middle piece of a blondie - you know the gooey, moist texture you expect. But my foodie friend was on the 'it's undercooked' side of the table, which I guess it could be considered that, but I liked it how it was so no complaints from me!
Although I'd order it again and request a corner or side piece, because we all know they're the best.
We're chocolate lovers, so know my pain when I say that whilst sometimes it's death by chocolate in this case it was death to chocolate. There was just something about this... it was enjoyable when drowned in icecream and chased quickly down with a mouthful of latte, but not really outside of that. Don't know if it was a bad batch or what happened, but the best bit about it were the fresh berries...
This right here is the dish that had me wishing it was okay to eat dessert and only dessert.
Although there was some slight confusion when it arrived and I took a bite - this dish is cold. Yes, it's meant to be like that. For some reason we all had assumed it would be warm, but after trying it, it didn't matter one bit. Clean, simple flavours that hit the spot and man oh man, that honey cream.
Wrap Up
We came, we ate, and we conquered. It's a tough job when updating a menu to know what to keep, what to update and what to totally replace. We'd say PepperBerry have done a great job in bringing out something that showcases our native flavours in a way that's edible for everyone! There's definitely a range of choices that most people would be happy with - just don't take Dazza from next door because he'll be sorely disappointed there's no parmy. 
Overall we were pretty happy with the dishes we'd picked. Was slightly disappointing the desserts didn't stack up to the level of mains, but that's a hard job for any restaurant to complete. The mains and entrees were great - so if you're not a huge dessert person, make sure you stop off and give the new menu a try. We'll be headed back soon to have the massaman fish and try out the other dishes that's for sure. So Thank You, Thank you very much! (Sorry, I just saw the new Elvis movie and couldn't help myself).