article
Darwin burger roundup
• By Optimus Prime Rib
Hamburgers, chicken burgers, fish  burgers, seafood burgers. Anything burger and I'm there like a woman at a shoe sale. Not Big Mac Burger though. Oh hell no. The  only food that I love as much as pies and rice would have to be the humble burger. Holding one in your hands is both masculine and therapeutic. They're also the healthiest thing on any menu. Why? Because what else has all five food groups in such a nice form factor. Meat, grains, vegetables, dairy and a smidgen of fat - simply perfect. They also usually come with chips which is awesome in any language. And if anybody needs any further convincing, they're cheapish. I've come across many burgers since starting Darwin Foodies with my fellow colleagues, here I round up some that have done the dance with my taste buds.
The Cav - The Cav Burger
Lovely pattie, super soft with visible bits of herbs and spices. Smashing bun and melted cheese, chips need work however.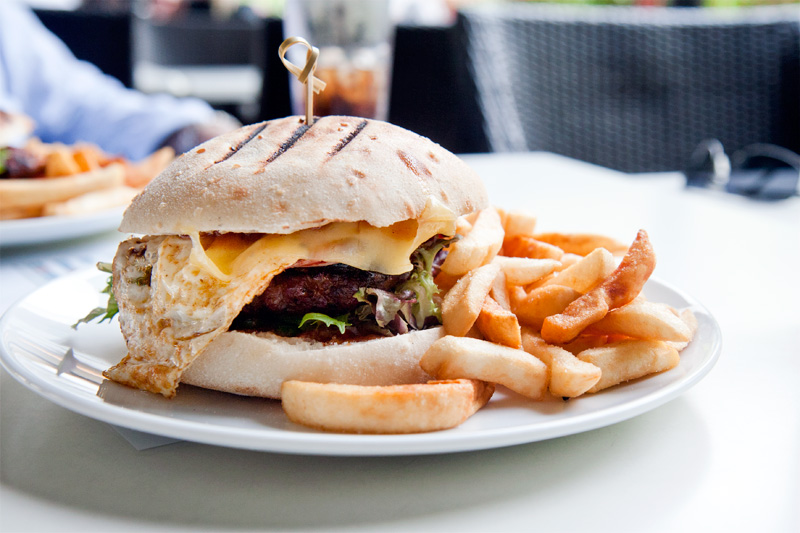 Melissas - Hamburger with the lot
Gigantic with a  huge amount of protein, salad definitely plays second fiddle here. Usually accompanied by a feeling of uneasiness after consuming, if you manage to finish that is. Cheap as heck too considering the quantity of items stuffed in between the buns. 
Salvatores - Sals big burger
Big by name, big by nature. It's possibly bigger than the Melissa's burger which I had not though possible for quite some time. Just massive. The pattie was a little dry and tough when I had it.
Xtreme Caffeine - Xtreme burger
Minute steak, bacon and lots of fresh salad. Well balanced and the best cheese in a burger I've ever had.
Table Forty Three - Steak burger
I'm not sure why these guys got rid of their excellent hamburger, but at least they replaced it with an epic steak burger. A big slab of tender meat cooked to perfection. The chef  sure knows his/her way around a grill. Pricey at $20, but it's a generous bit of steak that they've included.  
Cafe Bellisimo - Scotch fillet steak burger
A few layers of thinly sliced scotch fillet with a plentiful amount of super fresh and crunchy vegetables. Close your eyes, chew and you'll feel like you're in Italy. Great chips too.
Cafe 21 - Classic Burger
Straight up meat, onion  tomato and lettuce. Patty is a bit small and a little too chunky, you need to add your own sauce to it too. But really dig the onion. For 3 bucks more you can get a burger with cheese and a few other goodies.

The Boat Shed - Boat Shed  beef burger
Super fine minced beef patty leads to tender goodness with a side of fantastic chips. The aioli is nice too. It's a rip of at $19.50 though.
Chook Shed - Chicken BLT
If you're not a fan of beef, try the chicken burgers at The Chook Shed in Tipperary Waters. Great for something on the run.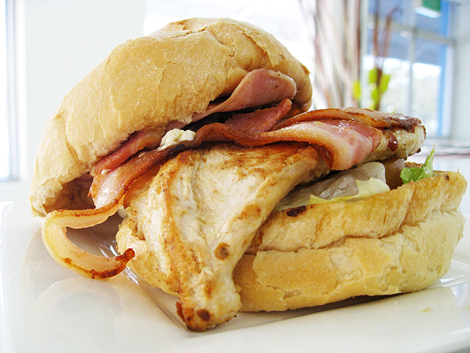 The Deck - Pork belly steam buns
Not technically a burger, but one could argue it's an Asian style burger. A part of The Deck Bar's lunch and dinner tapas menu, it's a steam bun with pork belly, pickled vegetables and hoi sin sauce that sets your mouth alight with exotic flavours. This is one tapas you won't want to share.
Conclusion
Burgers rock my socks. Are there any that you've come across that deserve a mention?