article
Interview: Kamala Thriemer and Ben Ley from Haensel und Gretel
• By Optimus Prime Rib
How did you get into cooking?
We both love eating homemade, not too fancy food and I always loved cooking. Eating brings people together, since we have two children we try to have at least one meal per day together, where we sit around a table and talk and have good food.
Tell us about Austrian and German cuisine?
The main point is that there is not one type of German or Austrian cuisine. Food styles are regionally distinct and there are specialities that you only get in certain regions. One of my favourite dishes is "Maultaschen", a speciality from a region in South-West Germany called Swabia. It's a Pasta filled with minced meat and herbs and served in a soup with potato salad at the side. You won't find it on a menu anywhere else. 
We also make spinach dumplings topped with Parmesan which are from South Tyrolea in Northern Italy, close to the Austrian border.
What's the secret to a good goulash?
The onions and time! Goulash needs lots of onions and there is no way around it. So you have to put your goggles on and face it. Goulash needs to be slow cooked for several hours until it becomes this really soft texture. And leaving it for a day and heating it up again, makes it even yummier.
What made you start a food truck?
My partner and I always liked cooking for others and feeling this sense of community that comes with it. We've been talking about opening a café for ages. So I guess we decided to stop talking about it and finally do it! And here we are!
And how is the business going so far?
It is going really well. We started off one night a week, now we are doing three. We have so many ideas about what we'd like to do, it's just a time factor because we still have our day jobs as researchers at Menzies School of Health Research.
What goodies can we eat from your truck? 
We have classic Austrian dishes such as Viennese Schnitzel with potato salad and Goulash. Our vegetarian is South Tyrolean Spinach dumplings topped with freshly grated Parmesan most of the time and we are planning to introduce Traditional Swabian "Spätzle" - noodles with fried onions and grated cheese. We also always have a range of sausages, like German Bratwurst with Sauerkraut, Kaesekrainer (cheese kransky) etc. 
Does the menu change often or do you stick to popular items? 
We have a core menu, but are also having specials every now and then. One of my favourites is Tafelspitz, which apparently was the favourite dish of the last Austrian emperor. It's a beautiful piece of beef slowly boiled in homemade soup. It is served with root veggies, fried potatoes and a super yummy apple-horseradish sauce. At the Malak Markets we often also have vegetarian strudels or Schnitzelsemmel, which is basically the Austrian version of a burger.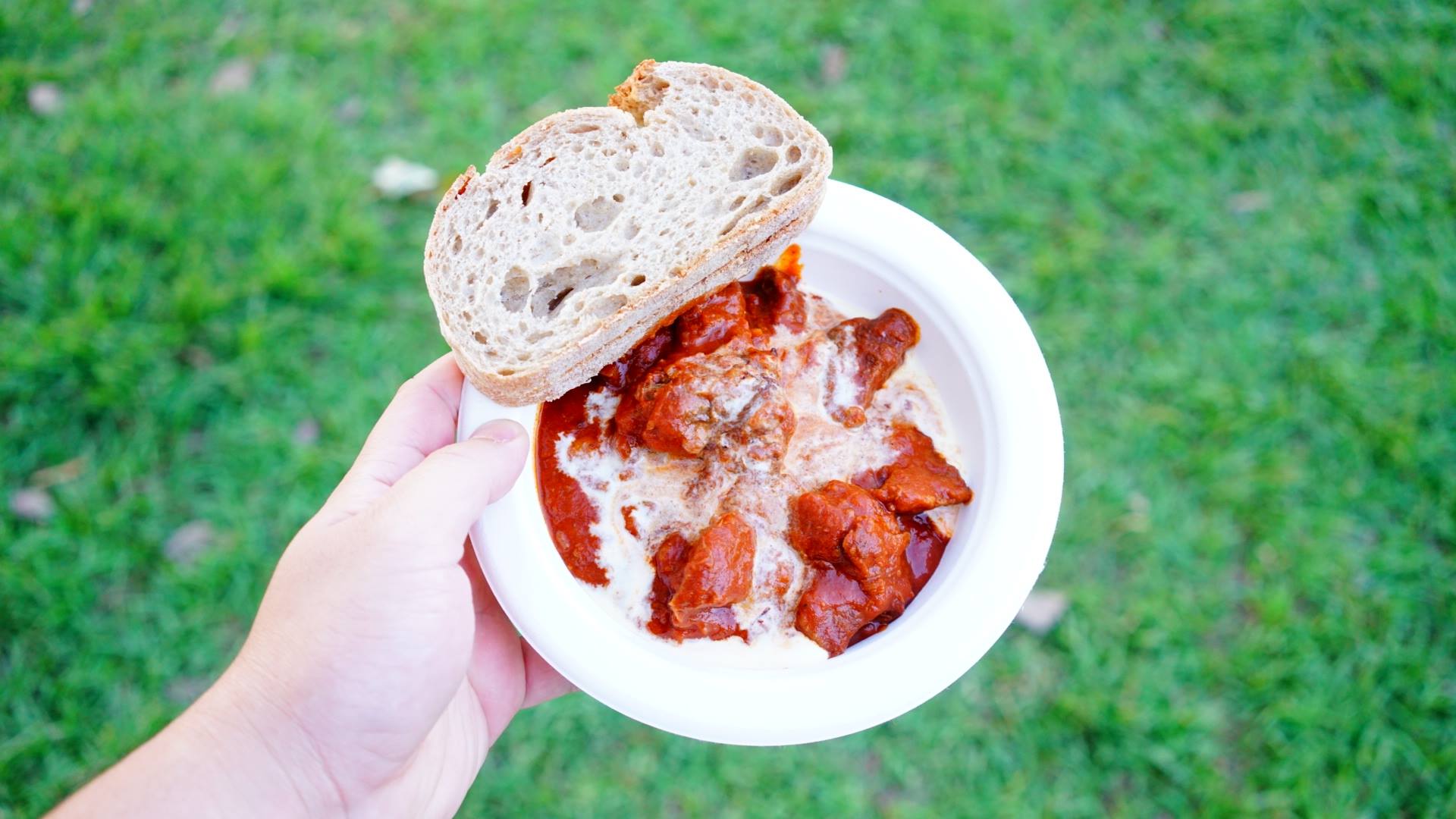 If you could have one last meal, what would it be?
A good German Brotzeit: different types of dark heavy bread with a variety of cheeses, charcuterie, and pickles and so on…
What do you like about cooking?
People will not believe, but it actually relaxes me. It's the perfect change to a busy day in the office…
What don't you like about cooking?
Definitely the cleaning up afterwards….
What is your favorite kitchen equipment or gadget? 
I am not very keen on too many gadgets, but good knives are essential. Not having them, would drive me pretty crazy and the onion chopper we have is a real life saver.
What are your essential ingredients, the things you couldn't live without? 
The important thing for us is that the ingredients have to be fresh and high quality. We don't use processed ingredients and rather try and bring it back to the basics. Most of our ingredients are sourced locally and we are trying hard to be as sustainable as possible.
Where and when can we find you so we can eat your yummy food?
We are Tuesday and Thursday night at the Nightcliff foreshore at the end of Chapman Rd. We have tables and chairs and lights there, but you can also bring your own picnic rug and enjoy our food and the scenery and dinner under the stars. Saturdays we are at the Malak market place. Please make sure you check our facebook page for any recent updates or changes.