article
Interview: Xenia from Rush'n-Hour
• By Optimus Prime Rib
How did you get into cooking?
My grandmother is a chef and she worked for 3 presidents back home (Moldavia) so she gave me her best recipes and when I was pregnant I was just craving to eat her food, so I decided to do it myself. That's how I started my food truck, by cooking myself and thinking that I should maybe try sharing this with others and see how it goes. 
Your truck is so cool, who painted it?
I bought the truck like that and thought the same thing – the colour is so cool I have to have it! 
I think you're the only person that sells Russian food Darwin, tell us – what is it all about?
I am the only one! How cool is that! It's all about sharing a culture and make people discover new tastes! No one really knows what Russian food is : ) 
Tell us about the foods you offer from the Rush'n-Hour truck?
I have traditional Russian Food that I grew up with and that I was craving while pregnant. 
Starting with the most popular ones, the Pelmenis: Russian dumplings with pork & veal, served with butter, sour cream, salt & pepper and parsley on top! YUMMMMMMm. (These are boiled not fried!)  
Than I have something more Ukranian, the Varenyki: mashed potatoes, onions and mushrooms dumplings, served with butter, sour cream, salt and pepper, and parsley. They are also boiled. 
Borsch would be probably the most known meal, it's a beetroot soup with cabbage, potatoes, capsicums, onions, carrots, garlic! this is all very healthy and full of Iron! I do it 100% Organic for Malak Markets! served with sour cream and parsley.
Olivier Salad which is our traditional salad on every table! Everyone has it different sorts of meat (bacon, ham, etc) but I use it with free range chicken breast and it comes with potatoes, carrots fresh AND dill cucumbers, baby peas, hard boiled eggs. Gluten Free and so yummy! This is fresh and summery!
Chicken Cotelletes are more of a long meatball, made of chicken breast mince, onions, dill and cheese and are to die for!
Do you have any plans to expand your menu?
There are so many other things that I would like to do but due to the lack of hands (only 2 for the moment...) is just what I can handle and it already takes me a while! But I am thinking of adding or changing some stuff on the menu just need to sit and think when I am able to. Russian cuisine is very rich and also very healthy. 
If you could have one last meal, what would it be?
One last meal…. I am a fan of potatoes LOL. If I have to have one last meal that would just be boiled potatoes with butter and dill!!!!!!!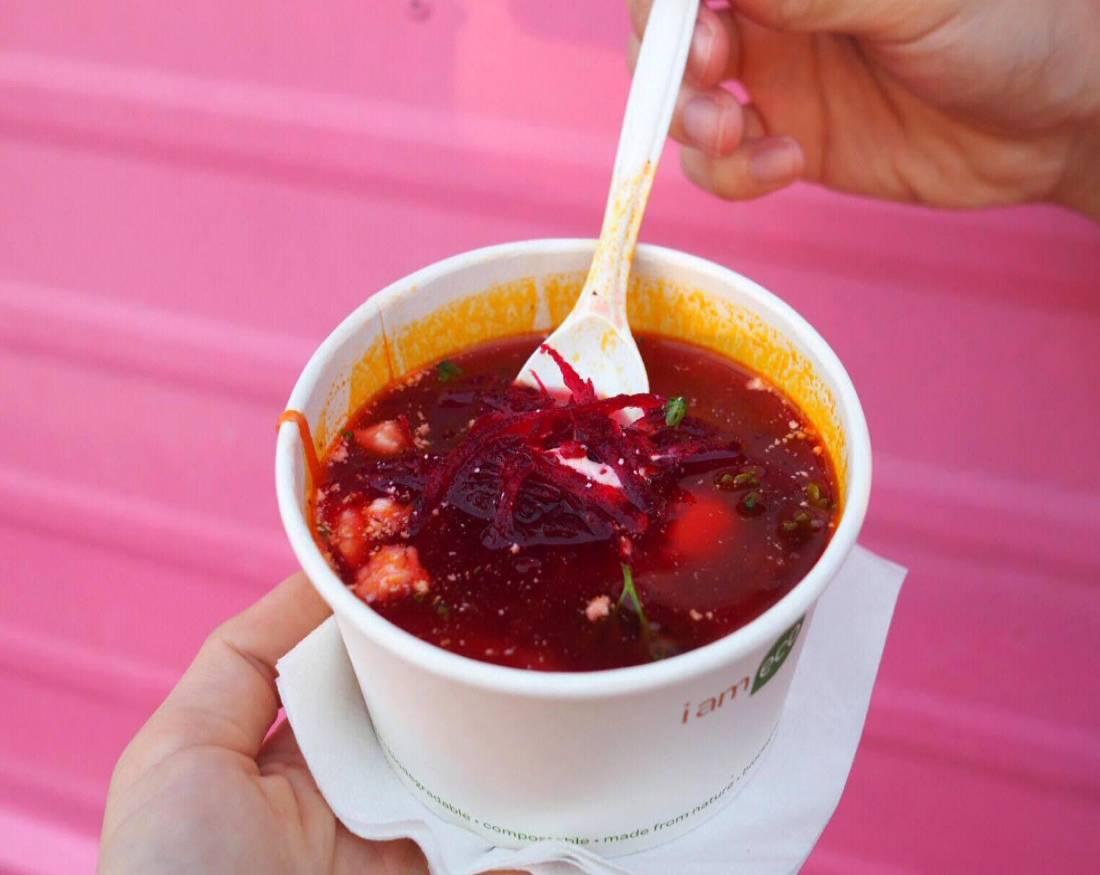 What do you like about cooking?
Cooking for me is sharing my love for food, sharing my culture and seeing people coming back for some more! This is what I love and you can feel it in the food. 
What don't you like about cooking?
What I don't like is peeling all the veggies haha! 
What kitchen hacks do you use often? 
Through out the time I have been able to find some solutions for me to save a lot of time, it's not really kitchen hacks, but it's more of gadgets or machines that cut the veggies, do the dough, onion puree, which I was doing by hand not so long ago! 
What are your essential ingredients, the things you couldn't live without?
Esential ingredients would be potatoes (again I know!) buckwheat, sunflower kernels, cabbage, and many more... 
Where can we find you so we can eat your yummy food?
I am doing Mindil Markets on Thursdays and Malak Markets on Saturdays, also the Darwin City Boutique Markets which are held mostly in the Smith street Mall and that's it for the moment.
--
Photos supplied, taken by Foods of Darwin.