article
MasterChef Dining and Bar Singapore
• By Brioche of Tarth
So imagine me, the MasterChef fanatic, stumbling on this event by chance just a week before the launch. 
By pure luck my partner and I were in Singapore for the tail-end of the 15-day MasterChef Dining & Bar Singapore pop-up, and I managed to procure two tickets for a lunch. My wallet still weeps from the sting of the cost, but it's a once in a lifetime chance. There there. 
On the day of the lunch I got quite nervous and jittery. Was the camera charged? Did I have the right SD cards? Lenses, gosh, where are they?! Getting ready was almost impossible, and my partner had to basically drag me out of our hotel room to get the cab to the restaurant.
The location
If you haven't been to any of the InterContinental Hotels, you should try to pop in to one for a peek. The Singapore InterContinental has incredibly high ceilings, beautiful furnishings and the amazing natural light from multiple sky lights is drop dead gorgeous and very luxurious. There's even a piano and a very talented bloke that plays during the afternoons. 
Ash & Elm is an equally beautiful restaurant that focuses on European dining and has a charcuterie and cheese room, wood-fired oven and an open charcoal-grill kitchen. Definitely on my to-eat-list.
We were quickly escorted to the front desk who scanned our tickets and gave us a little slip of paper with our table number tucked in the menu for the day. It wasn't long before we had to queue up (apparently it's a very Singaporean thing to do) and headed into the restaurant.
The calm before the happy storm
Boy there was a crowd! There was easily 100 people in the restaurant - some lucky ones had front row seats to the kitchen and another table that was almost like a judges panel. My partner and I had fully expected this to be like a traditional sit down meal where you just crane your neck from your spot with your bum firmly planted on your seat like a good child.
Thankfully the event was nothing of the sort!
The hostess was quick to inform us that it was more of an informal deal and we could roam about (just not in the kitchens of course) and there was 'activities' and prizes to be won. 
The Chefs took turns to introduce themselves and their dish. A little bit more about them further down this post.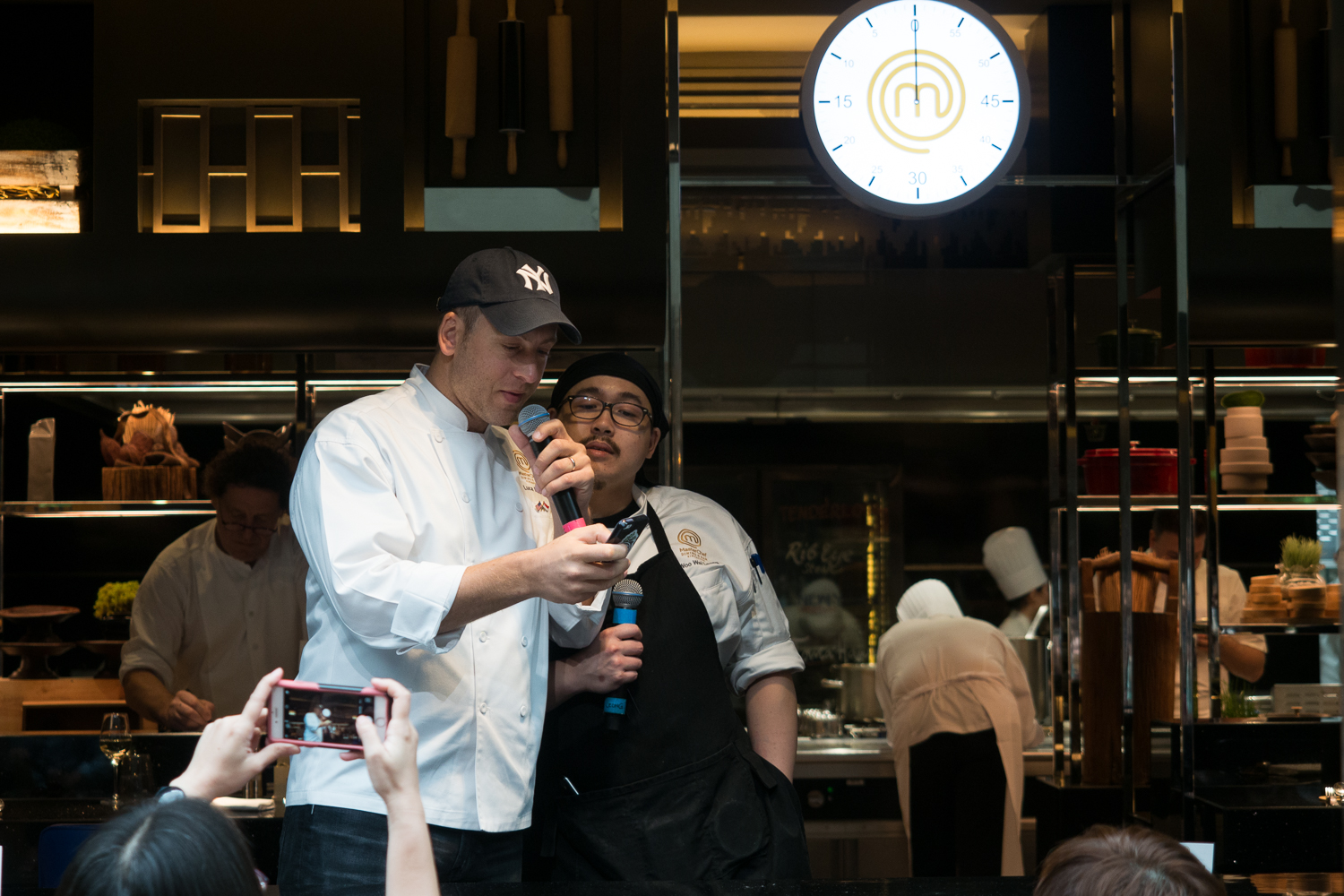 ---
That MasterChef touch
There was a tonne of familiar elements from the MasterChef shows:
The dreaded Mystery Box and clock
Yes, they brought a Mystery Box!
Some unlucky fellow was called to the front and basically given a mystery box to cook a dish... in 30 minutes.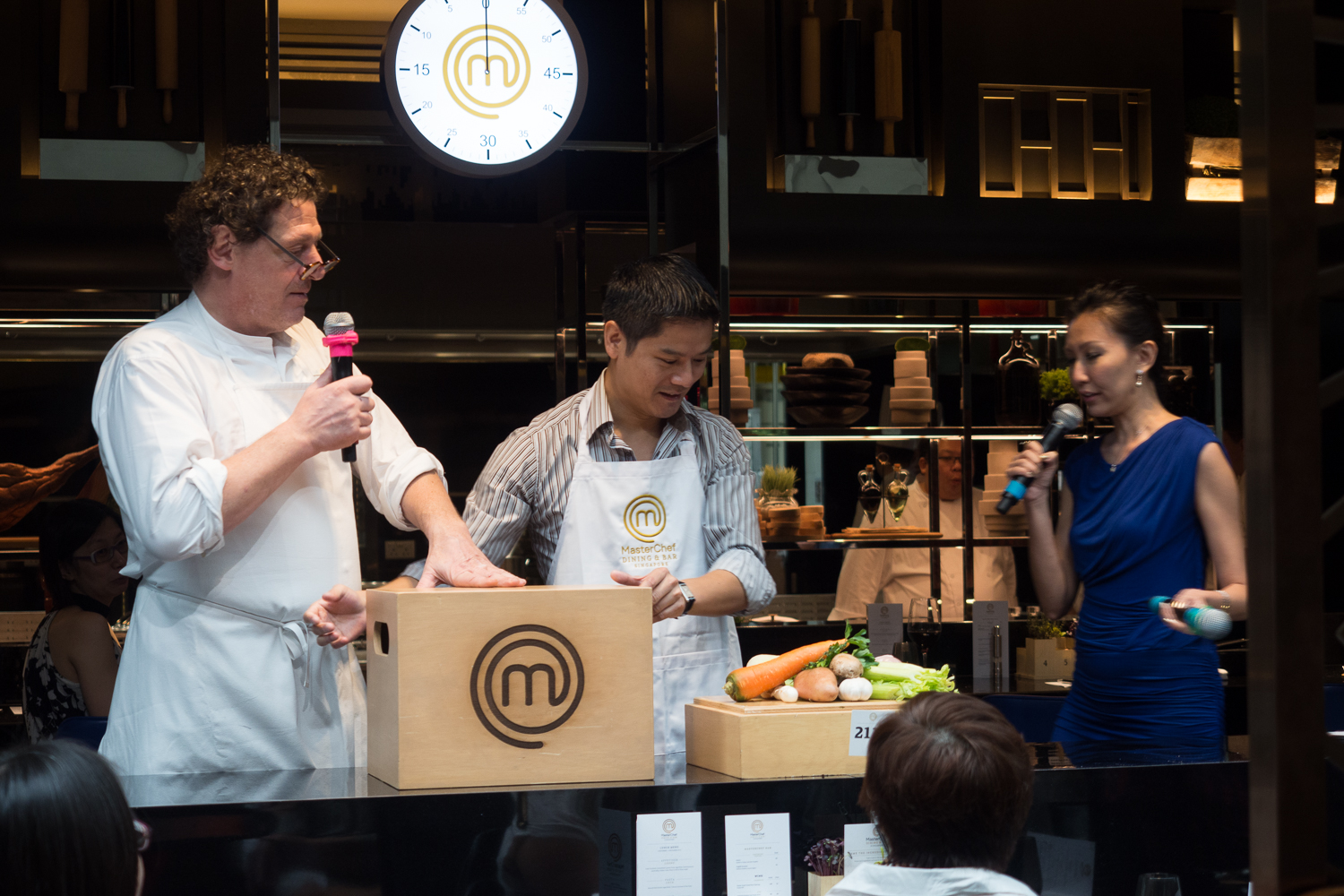 With a 3, 2, 1 and a loud 'GO' Marco Pierre White sent mother and son straight into the back kitchen and they were pretty serious about cooking the dish... 
Then M.P.W. called them back after a minute with a massive grin on his face saying it was all just a joke :D
The guy had such a massive grin of relief when he heard it was all a ruse. He got to keep the apron and another gift for being a good sport - the crowd loved the joke too!
Guess the things
Just like in the show, every table had a little tray of 10 different items for us to guess the name. It wasn't very long before everyone started some serious Googling. 
---
The dishes
Appetiser
Light and refreshing, the dish was served cold and the meat was cut sashimi style. The fish and scallop was succulent and very fresh. The broth was something different altogether. It had the very distinct flavours of jasmine and oolong, and the earthly dashi made the soup less tea-like. 
Singaporean Chef Woo Wai Leong, an ex-lawyer and an experienced bartender, is Asia's first MasterChef and he does some crazy fusion dishes. Definitely one to keep an eye on in the future.
Pasta
My dish was a little cool by the time I finished photographing it, but it was still thoroughly delicious. 
The sauce, my gosh, was epic. At first I thought it was some sort of butter sauce but I (only just) found out that it was a Pecorino cream sauce. Creamy and not overwhelmingly rich, this is easily my new favourite pasta sauce.
Chef Luca Manfè, season 4 winner for MasterChef US, told us the story behind this dish - the broccoli rabe was something his grandmother had made and, being Italian, pasta is a dish from the heart. It's extra special because it's the dish that got him a spot in the MasterChef kitchen.
Meat
My partner dubbed this the 'Chinese steak and potatoes' and was a favourite of the day. Short rib left to sauna in a sou vide for a long time... I forgot all the details as the meat slowly melted in my mouth. It was bloody perfect.
I found the side of angelica root and Chinese spices very interesting. It had strong aromas and flavours, but the overall dish didn't come across to me as a particularly Chinese one. This clever dish still intrigues me.
Dessert
There was an area at the back of the restaurant where Reynold Poernomo, 2015 Australian MasterChef contestant, worked on his little dessert masterpieces. He was very focused in his work, borderline solemn apart from the occasional grin.
Some lucky patrons had birthdays, so Reynold wrote something nice for them in chocolate. 
It's basically a deconstructed blueberry tart! Paying homage to Aussie land where it's blueberry season, this Sydney Opera House looking masterpiece tasted as good as it sounds.
The shards and shortbread were wonderfully thin, and had just the slightest hint of lemon. The mousse was firmer than expected and quite dense. Imagine a cross between jello and custard, mm-mmmm. 
Keep it simple, they say.
---
Meet & greets and lots of signing
The quick thank you end brought everyone to their feet. The Chefs then roamed around the tables to say hi and sign menus. 
Luca is quite a joker - he prances around and he makes people feel comfortable. He sat with my partner and me for a bit and we talked about Darwin. Luca has never been to anywhere other than Sydney, so maybe one day we will see him in the Top End :)
---
Conclusion
The crowd eventually thinned out and by then I was exhausted from the happy stress of being there. It's definitely something I hope to do again, but give me a few months to recover from the awesomeness :D
Thanks for reading till the end! Here's some Darwin exclusives ;)