article
Pop up Indigenous Dinner with Zach Green at The O.A.K
• By Brioche of Tarth
The Original Australian Kitchen (O.A.K) is somewhere we've been before and we were thrilled to get tickets to a combo dinner deal mastered by O.A.K head chef Brian O'Keeffe and Zach Green, Darwin's upcoming indigenous chef.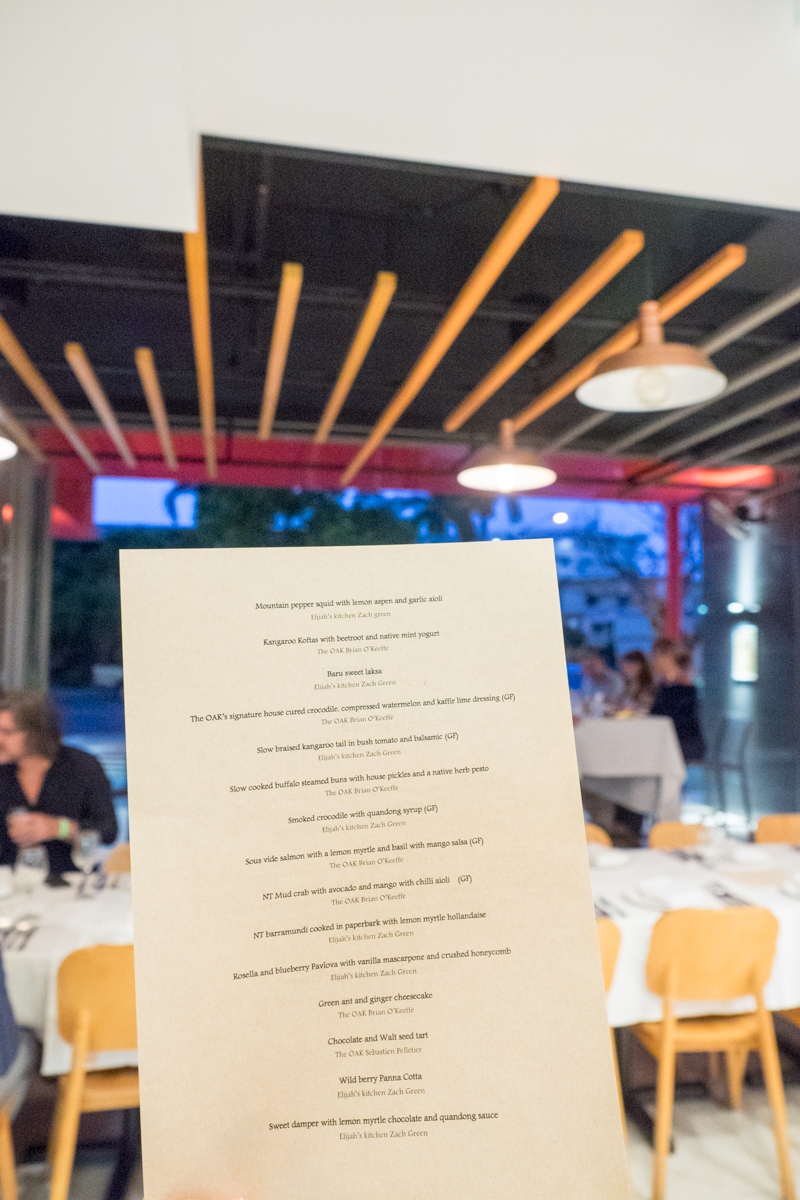 It was great to see it was a full house that night. The long farmhouse style was meant to replicate the family dinner times you would find in an indigenous setting, and it was good people making themselves comfortable with strangers. It wasn't too long before the entrees came in the hordes!
Entrees
Left to right: Mountain pepper squid with lemon aspen and garlic aioli, Slow cooked buffalo in steamed buns with native herb pesto, Kangaroo Koftas with beetroot and mint yogurt.
The squid was exquisite, perfectly tender and great with the aioli. The bao was a good Chinese fusion mix – but the pesto wasn't as strong as I thought it was going to be. The koftas were interesting too, slightly dry but the magic pink sauce gave a little relief. 
Crocodile ceviche, this was something we had on our last trip to O.A.K, and it was delicious. If you haven't tried it I highly recommend that you do. It's firm like scallops, albeit tougher, and has a very mild flavour. 
'Nuff said here: such a winning combination... so good I had three. 
Sweet Baru Laksa - very interesting. It's not a hot and oily laksa packed full of ingredients like we know and love in Darwin. 
With only three elements to the dish, this 'laksa' definitely stood out for its flavour and simplicity.
The soup was more like a rich tomato-y bisque. I could drink a whole pot of this soup easy. It's naturally sweet from the tomato and onion base. 
A very generous serve of tenderised baru (crocodile) . I think Chef Zach said the croc tail was cooked for over 6 hours? The noodles (I think it was soba) gave the dish some body… and maybe my hips. 
Looking forward to trying this laksa again as a main when Zach opens his restaurant!
In between the entrees and mains, Chef Zach took up the mike to share his life story and his love for Aboriginal food. He will be opening Darwin's first Aboriginal restaurant early next year, and this was just a taste of what there is to come. 
We'll leave that interview for another day on Darwin Foodies!
Mains
Mains was made of three items: 
NT barramundi cooked in paperbark with lemon myrtle hollandaise was instagram worthy, steamy, sexy looking trays of fish in bark - who would have thought? It almost has a smokey depth in the flavour, and seasoned very lightly. I think the hollandaise was put on the wrong fish, haha.  
Salmon with Salsa (bottom of the picture) was amazing, AMAZING. Succulent and soft might be the only words I can use to describe this. The salsa was of the chunky sort and the mango was a perfect fresh hit to the dish. Our table finished it, easy.
Darwin needs to learn how to eat salmon like this.
Braised Kangaroo Tail. (Did you know that roo tails have star like bones?)
Two words: bloody delicious. It's like braised red wine ox-tail but more gamey... that sort of meat sliding of the bone that dreams are made of. I had a lot of pieces, like, A LOT. I even shamelessly ordered bread to mop that sauce up. Highly recommended if you have never had kangaroo tail before. 
Also not pictured in the mains is carrots, potatoes and greens. I don't know how we survived with so much food in our bellies at this point!
Desserts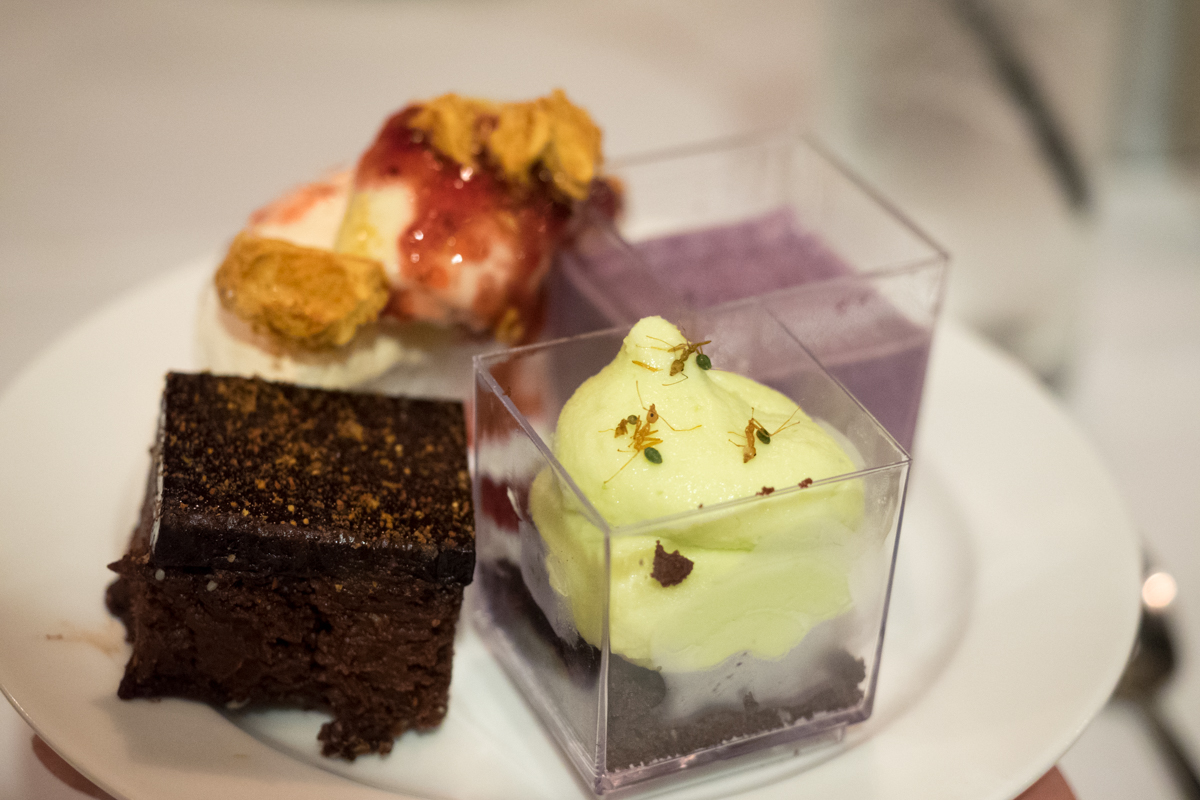 At this point of time I was way too full to eat anything so I just tasted the desserts.
From left to right, clockwise: Chocolate cake (which I think was supposed to be chocolate and walt seed tart), Rosella and blueberry pav with vanill amascarpone and crushed honeycomb, wild berry panna cotta, green ant and ginger cheesecake.
I must say I wasn't too impressed with the desserts. 
The chocolate cake was good, but I wasn't sure what the walt seed should taste like, and it wasn't a tart like I thought it was going to be. The pav was also good - the honeycomb  was deliciously crunchy, but the pav itself wasn't too special. 
The panna cotta was quite chunky in texture, and it didn't have the wibble. I think a layered panna cotta would have worked better, one of those half normal panna cottas and the top half of the berry blended panna cotta mix. Fresh berries couldn't hut too. 
Green ants! Was a great coversation starter down the table. It's such a Australian special and if you haven't had one just yet - you can eat it whole and it's like sour exploding liquid from its bum! 
Sweet damper with lemon myrtle chocoalte and quandong sauce - the damper is a very dense bread, and the lashings of the chocolate and quandong sauce was very delicious... but I couldn't do more than one slice and I think it was missing that char element from a campfire. 
Overall the food was delicious and a great introduction to indigenous foods. If you have the chance to attend another of O.A.K's pop up dinners I say just buy a bunch of tickets for the experience with a great group of friends. 
Thank you to chefs Brian O'Keeffe and Zach Green and O.A.K for the great feed!