article
Tropical Kitchen with Accomplice Art Space
• By Guest Reviewer
Although I had been to the markets so many times before, this visit felt different than times gone past. Though the narrow foyer was throbbing with people as per usual, my experience of the Rapid Creek markets was taking place in a low aperture on this lost Sunday morning. My focus was fixed on the sights and smells of the produce, while the hustle bustle was drowned out. My outlook was myopic, and on this occasion myopia was a great thing.
Thanks to Jamie Lewis, acclaimed artist and performer, and commissioned by Accomplice Art Space in Nightcliff, I was taking a self-led tour through the markets with the accompaniment of an audio storytelling experience. Representing the Darwin Foodies gang, I took myself off to Tropical Kitchen event, a Darwin Festival offering, which began with listening to Jamie's experience of growing up with Singaporean markets and her grandmother at the heart of her early food experiences. After the Rapid Creek tour, attendees were invited to the pop-up kitchen in the beautiful Accomplice space for a quick cookery class and a long lazy lunch.
With gusto, I accepted the invitation and took myself off to Rapid Creek. It was 9 am in the morning, but this didn't deter eager customers, with the market already bursting at the seams. I met the group of fellow tour members and Jamie herself. She explained how the day was going to play out and provided us all with a link to her audio creation on our smart phones, and some bright headsets to listen on. With general housekeeping sorted, the group of 10 dispersed like little worker bees. Personal taste dictated where facets of our gang branched off to; while I was drawn immediately to the display of Asian sweets lolling lazily in their display cabinet, colour won over the older couple from Melbourne.From a distance, I watched them examine the mangos, oranges, and limes like rare jewels; perhaps not as accustomed as us Territorians are to the abundance of high-quality local fruits. I ambled through the narrow interior of the rapid creek mall, my slow walk due in part to both the heavy footfall and my desire to take everything in and store it internally for later referral.
The experience was unusual for me; the Sunday ceremony that is the market visit is marred most of the time with a degree of anxiety bubbling away under my skin. I so want to be there and experience the theatre, but bodies everywhere combining with high octane noise usually cause me to order my usual paw paw salad and hot foot it out of there. This time it was so incredibly different. While this environment I mentioned was there, I was removed considerably from it. I was engrossed in Jamie's world, back in Singapore where she re-lived visiting the markets with her grandma and cooking good wholesome food. While still present in my peripheral, the market chaos was dulled somewhat in contrast to the peace that Jamie's story telling was providing me with internally. Her soothing style of recollection enraptured me in the market atmosphere, but enabled me to fixate on the beautiful produce, faces of the stallholders and the smells of South East Asia and India. I was experiencing the real essence of the Rapid Creek market without the superfluousness. 
Tummy rumbles transported me back to Darwin, and it was time to head to Accomplice for some cooking.
Accomplice is a pleasant surprise; an open art space tucked into an otherwise industrial Caryota Court in Coconut Grove. It is a converted garage with upstairs loft space for arty types, but for us amateur cooks, the ground level converted kitchen space was our home for the morning. I teamed up with a Japanese and German lady for the cook, and we casually conversed about living in the tropics over the deskinning of many shallots. First up, we were making our very own sambal; a versatile condiment, with Malaysia, Indonesia and Sri Lanka all delivering their take on the spicy sweet paste. Using a combination of fresh and dry chilies, fish paste, tamarind, and sugar, we pounded together these elements to create a Kǒuzhōng bàozhà (Chinese for mouth explosion)
We hadn't yet completed the work, although I would have been content with the sambal making alone. It provided such immense sensory pleasure when teamed with crusty bread, heard boiled eggs and fresh cucumbers; a typical Asian style take on a traditional English sambo. Jamie explained that this was typical of the Singaporean dining experience, in which her mother used to frequently team European and Asian cuisines together in the one dish. It is an accurate measure of both the diversity and symbiosis of Singaporean culture.
Next up we made Laksa, a breeze might I add once the laborious task of the paste making was complete. We undertook this part of the class in deconstructed chunks, with Jamie walking us through the various ingredients in detail, from information on their origin and use, to methods of preparation. We went all old skool in our prep; pestle and mortar were winning over the more traditional kitchen aid of a blender. It was cathartic in a sense; the process of bruising the lemongrass, slicing the Thai mint garnish and bringing the various spices and sweets together to form a sticky, bubbly mess in the large pots. Chilli won over with the sizzling fruit causing coughing fits throughout the kitchen.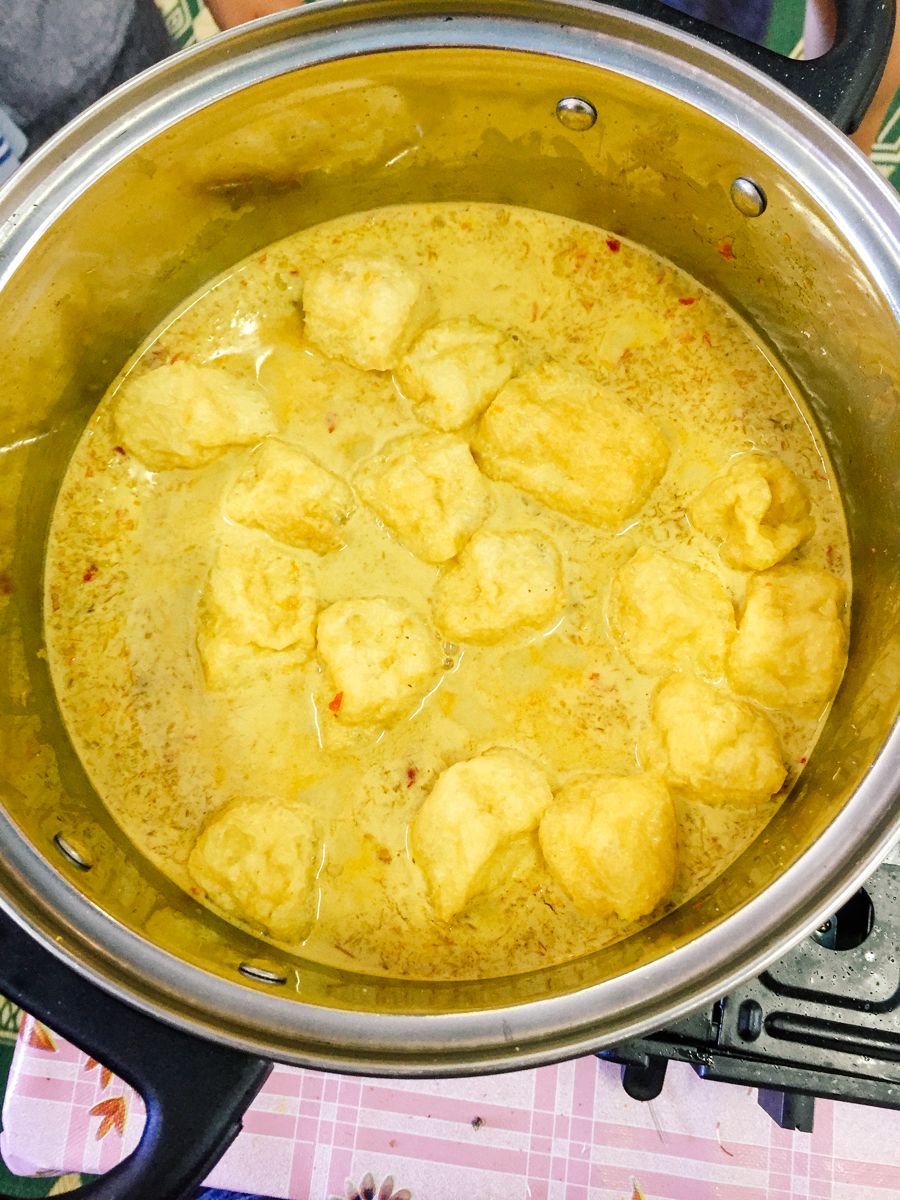 It was time to serve up, and the twee table setting became cluttered with vats of spicy laksas, pots of sambal, noodles, eggs, and chopsticks. It was a case of making your own, with juicy king prawns providing a welcome addition as well as the tofu puffs. I noted that while my skin had turned a shade of pink, teamed with an unquenchable thirst, Jamie coolly munched into her steaming bowl of laksa unphased. My Irishness was exposing me for the relative chili celibate that I was. Sweat inducing aside, the soup was bursting with flavour and texture, although Jamie noted that no Laksa had come close to her favourite one near her home in Singapore. Twenty years after her first visit, the laksa has raised in price by only two dollars; evidence perhaps that the makers of this do it out of pure love.
A crisp glass of Reisling, excellent conversation and great company rounded off the afternoon, with an array of shared Asian inspired desserts leaving us all bursting at the seams.Belly full, and take away containers in tow, I raced home to impress my long-suffering partner with my dish. He lashed it into him quickly, alternating between chopstick and spoon, as if indecisive as to what was pleasing his mouth more. The same heat rose to his skin, as did a coy smile. I asked him if he liked it. An audible "hmmm" escaped his lips. I took that as confirmation that this laksa was the best he ever had, my pasty Celtic ethnicity paling in comparison to my ability to deliver the goods when it comes to Asian cuisine. You have got to love my chutzpah, right?